CHANDLER, Ariz. — Chandler police are looking for guns and ammunition taken from a home near Chandler Boulevard and Kyrene Road earlier this summer.
The reward for information is up to $1,000.
Among the items taken were rare or unique firearms which include a pink Hello Kitty themed AR-15 with musical notes etched on the bolt, an STI Trojan .40 Caliber 1911 pistol with redwood grips and green sights, a Remington 1100 sporting clays 20 gauge shotgun with engraved side plates, 2 Winchester 9422 Williams FP pistol stock lever action .22 caliber rifles, 2 Savage Arms Anschutz M54 .22 caliber bolt action rifles.
The burglary happened sometime between Saturday, June 22 and Sunday, June 23.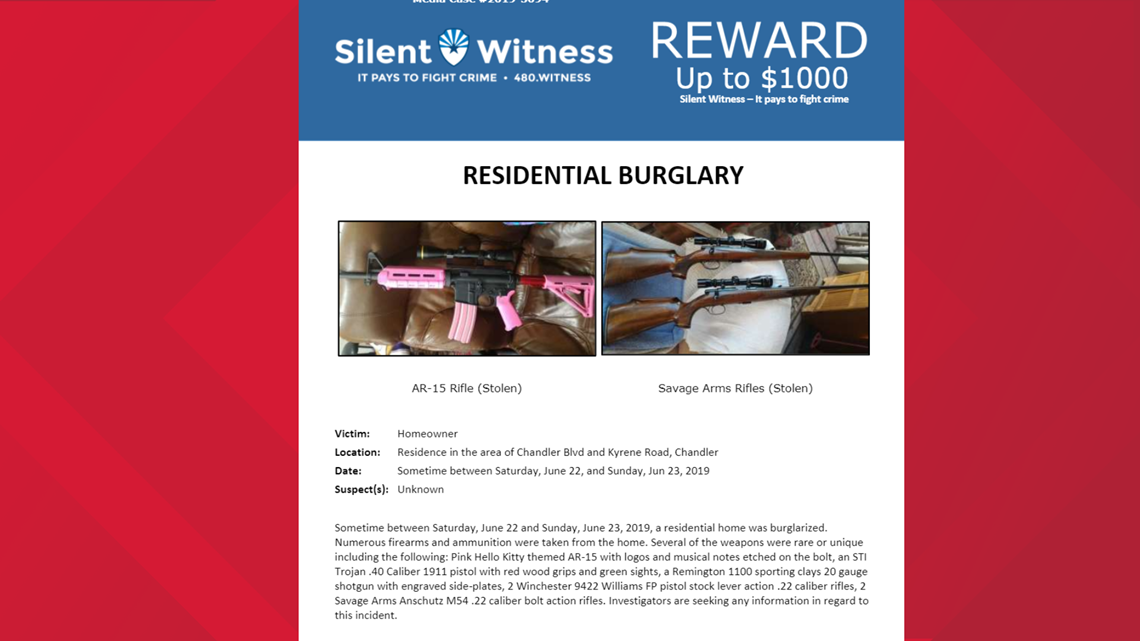 Anyone with information regarding this case is asked to contact Silent Witness at 480-948-6377 or 480-T-E-S-I-G-O for Spanish. You can also leave an anonymous tip on the Silent Witness website.
Sanrio reached out to 12 News saying they did not authorize this design as the owner of the Hello Kitty design. They say it was customized without their permission.
"Sanrio is in no way affiliated with any gun manufacturers or customizers; and Sanrio has never authorized the use of its Hello Kitty character on firearms or other weapons," said in an email to 12 News.
"Sanrio®, the owner of the Hello Kitty® property, wishes to correct the gross misconceptions cast by recent media reports suggesting that we are involved in the manufacture or sale of Hello Kitty guns. Sanrio has not and will not authorize the manufacture or sale of any gun or firearm and does not condone the use of our intellectual property for the purposes of marketing such merchandise.
"Any firearm and/or image featured in these stories was customized and/or digitally manipulated without authorization to include Sanrio's Hello Kitty copyrighted images and trademarks. Such actions constitute copyright infringement, trademark infringement and dilution. Sanrio's attorneys will take appropriate legal action against anyone who is manufacturing, selling or displaying such products."