The U.S. military has been called to help Texas combat COVID-19 twice. Here's where
When Texas is stretched thin with its COVID-19 response, Gov. Greg Abbott can ask the federal military for help. The governor has made that call twice.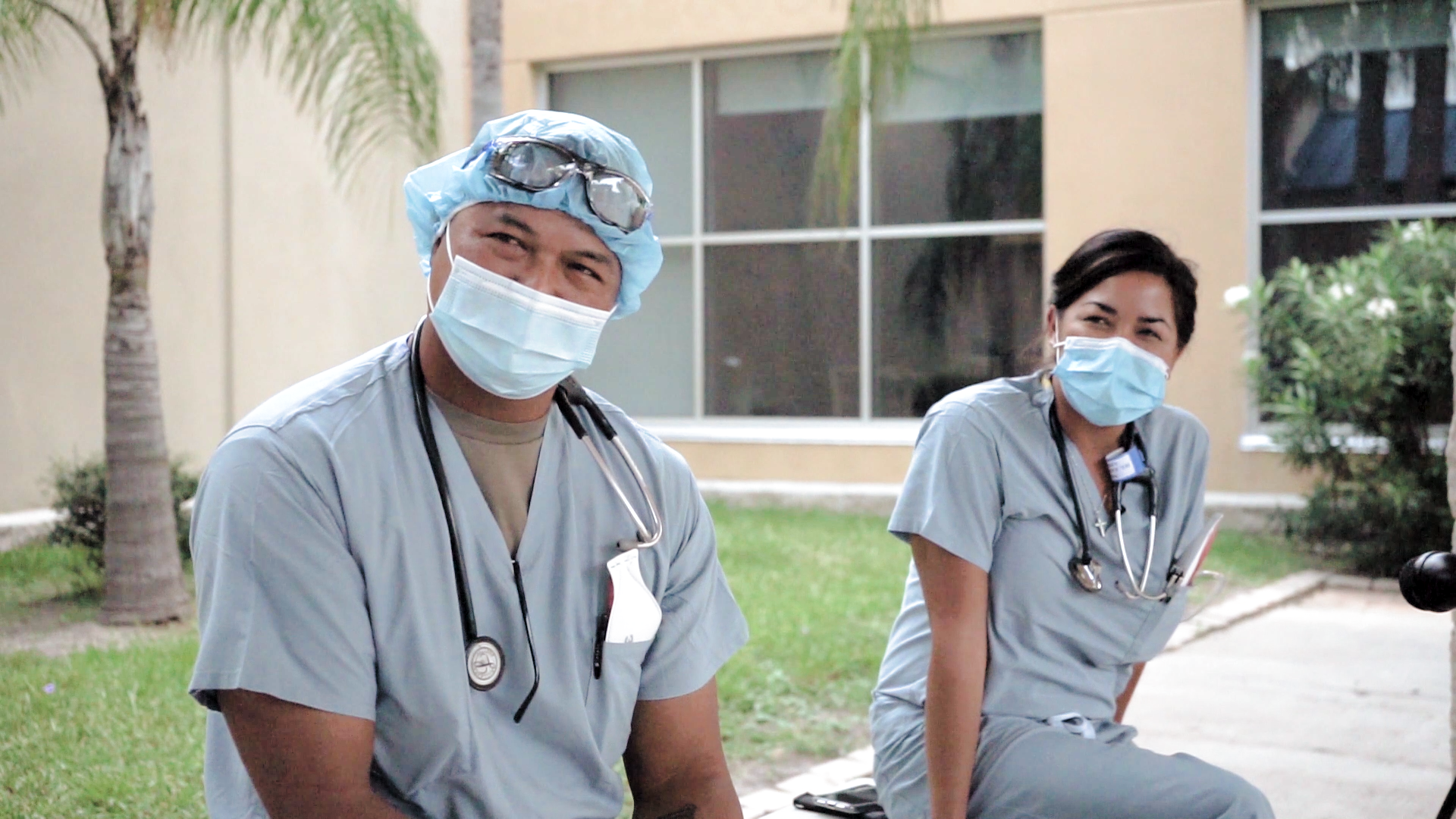 When Texas is stretched thin with its COVID-19 response, Gov. Greg Abbott can ask the federal military to step in.
He first made that call in July to help doctors and nurses in the Rio Grande Valley, and again this month for servicemen and women to go to El Paso.
As cases start to spike again across the state, we take a closer look.
Brother and Sister Dispatched to Texas
:
"This great state of Texas said, 'Hey, we need help here.' So, a lot of us said, 'Well, yeah, let's go help out our fellow citizens down in Texas,'" Sgt. Maj. Glenn Del Rosario, U.S. Army Reserve, said.
Rosario and his sister, U.S. Army Reserve Maj. Lynn Del Rosario, left Florida in late July.
The duo was assigned to the Urban Augmentation Medical Task Force-7458 to give medical aid to Texas.
Sgt. Maj. Glenn Del Rosario is a respiratory therapist. Maj. Lynn Del Rosario is a family nurse practitioner. This was the first mission the brother and sister served together.
"We were together on a family vacation. She got the call first. Then, two days later, I got the call," Sgt. Maj Glenn Del Rosario said.
On July 26, the two arrived in San Antonio to meet up with others from U.S. Army North. They joined 83 other service members to go to Harlingen, Texas. Each left behind family, not knowing how long they'd be away.
"I'm married, have four children. I think some of the hardest things, even this short in this window that we've been here is just missing birthdays already," Sgt. Maj Glenn Del Rosario said.
"I have two girls at home. They're 11 and one's about to be 12 in two weeks," Maj. Lynn Del Rosario said.
The major ended up missing her daughter's birthday.
"I will make up for it when I get back," Maj. Lynn Del Rosario said.
U.S. Army Reserve brother and sister help Texas fight COVID-19

Before this mission, Sgt. Maj Glenn Del Rosario served in Iraq.
"We're taking care of our own fellow Americans. When we were in theater overseas, we're servicing soldiers and all service members and other allied service members that were in combat. But here, it does hit home because the environment maybe is not dealing with the enemy. But the enemy here is COVID," said Sgt. Maj Glenn Del Rosario.
U.S. Military Response in Texas
:
Around the country, more than 1,000 Army Reserve medical soldiers, like Maj. Lynn Del Rosario and Sgt. Maj Glenn Del Rosario, have mobilized around the country since March.
Commanding General of U.S. Army North (Fifth Army), Lt. Gen. Laura Richardson, said Joint Force Land Component Command, Army North has sent around 10,000 soldiers, sailors, airmen and Marines across the country to help support cities and hospitals.
At the Association of the U.S. Army Annual Meeting and Exposition, Army National Guard director Lt. Gen. Jon Jensen said close to 50,000 Guard soldiers and airmen served in virus-related missions across the U.S.
In Texas alone, U.S. Northern Command has assigned nearly 600 military medical and support personnel from both U.S. Army and U.S. Navy to help in the response efforts.
In Harlingen, the purpose of the U.S. Army Reserve Urban Augmentation Medical Task Forces (UATMF) was to expand the capacity of care during the pandemic.
The UATMF was an 85-person team made up of doctors, nurses, combat medics, respiratory therapists and other medically trained staff.
"What's unique about our profession is being both military and working civilian ... We have that mix of our professions of the civilian sector where we came from and how the military standards of Army medicine is," Sgt. Maj. Glenn Del Rosario said.
The UAMTF also worked outside the hospital walls.
Army Reserve Maj. Ward Wagenseller was assigned to Edinburg, Texas, in Hidalgo County. The critical care nurse helped DHR Health with supply management, streamlining the space to support the increased demand for supplies.
"It's been a blessing," Stephen Hill, chief nursing officer for Valley Baptist Medical Center, said.
Hill started working at Valley Baptist more than 20 years ago.
"We have a phenomenal core group of staff, but that core group is stretched. Some uncomfortably," Hill said.
He said the area has never needed the military's help to cover patients' needs.
"The main way we look at patients is by acuity. So, you may have a lower ratio right now with a COVID patient, but the acuity is much higher than what they're used to. So, you can be stretched by numbers, or you can be stretched by the severity of the illness and the complexity of not having family here with visitation. All the above," Hill said.
Without the military, he said, the hospital wouldn't be able to handle everyone.
"Would've been catastrophic," said Hill. "Going back to it, it's not about ratios. It's about that acuity. It would have been a very, very different picture than what you're seeing now and not for the better."
Response in the Rio Grande Valley
:
In July, the death toll was rising fast in the Rio Grande Valley.
At the first of the month, Cameron County averaged six deaths a day. Three weeks later, the number jumped to 20 a day.
In neighboring Hidalgo County, 61 deaths were recorded up to July 1. By the end of the month, the death toll had neared 1,000 since March.
"This has been a very long ordeal for our staff," Matt Wolthoff, CEO of Harlingen Medical Center, said.
"I was here when we had H1N1. It's nothing like this," Amy Flores, chief nursing officer at Harlingen Medical Center, said.
The Rio Grande Valley isn't equipped to handle hundreds of people needing intensive care.
"Everybody now knows somebody who's lost a loved one," James W. Castillo MD, Cameron County Public Health, said.
Ten hospitals cover the four counties which make up the Rio Grande Valley: Cameron County, Hidalgo County, Starr County and Willacy County. Nine of those 10 hospitals are in Cameron and Hidalgo Counties alone.
The State's Trauma Service Area for the Valley shows 3,434 beds are staffed for a population of nearly 1.4 million.
"It's a bit busier but, you know, the best thing is just protecting yourself and just doing your day-to-day patient care," Lt. Charlene Calma, Navy nurse, said.
"Our four hospital CEOs [in Cameron County] got together when we knew that this Army team was coming in. We basically just had a very frank conversation about what each one of our needs were," Wolthoff said.
Valley Baptist took the majority of the support. It's the largest hospital in Harlingen. The rest of the support went to Harlingen Medical Center.
"We talk on a daily basis, whereas, you know, typically we're competitors. Right now, we're really all in this together," Wolthoff said.
"It's hard work, and we're glad we were able to jump in and help out the rest of the folks here at the hospital. It's also been a good experience to share different traits and business practices," Sgt. Maj Glenn Del Rosario said.
UAMTF ended the assignment in the Valley on Sept. 22. At that time, the death rate in Cameron County had peaked with 57 deaths registered on Sept. 3.
However, Cameron County's death peaked again on Oct. 2 with 70 deaths reported in a day. On Nov. 19, Cameron County's dashboard showed 1,106 deaths since March. Hidalgo County's dashboard more than doubles that with 2,022 deaths.
Response in El Paso
:
After the Rio Grande Valley, the military's response wouldn't be done in Texas.
The numbers still climbed.
The state sent more personnel and PPE to the area Oct. 22. Three days later, Texas set up an alternate care site to expand hospital capacity in El Paso.
By Nov. 1, the death total was 755 and confirmed COVID-19 cases continued to rise. On Nov. 6, Gov. Abbott announced he requested the Department of Defense's help again.
Three U.S. Air Force Medical Specialty Teams went to El Paso to aid in COVID-19 response efforts.
The teams came again under the U.S. Army North, U.S. Northern Command's Joint Force Land Component Command.
"We remain steadfast in our commitment to assist those in need as part of the whole-of-nation response to the COVID-19 pandemic and in support of FEMA," said Lt. Gen. Laura J. Richardson, ARNORTH and JFLCC commander in a press release. "Alongside our local, state and federal partners, we will work to mitigate this virus and care for El Pasoans."
In all, 60 medical providers and several additional administrative personnel support three El Paso city hospitals: the University Medical Center of El Paso, the Hospitals of Providence Transmountain Campus and the Las Palmas Del Sol Medical Center.
As of Nov. 19, 823 deaths are confirmed to be COVID-19 related. Another 435 are still under investigation.
Confirmed COVID-positive cases have not flattened. The cases continue to rise.
The Medical Team's Message to All
:
"I really don't know that the true population realizes when you do have this surge, you do have this spike, it is really bad," Hill said.
Hill said spikes in COVID-19 hospitalizations put a strain not only on caring for COVID-19 patients but all patients.
"I don't know how you can communicate that ... that people understand that this is serious. When you do have these spikes, when you do have these surges, when hospitals meet capacity, it's a big challenge. It's a challenge with all the resources, but it really is a challenge on patient care," Hill said.
"What they don't truly see and experience on the outside looking in is that it's so real and the survivability rate once you are on some of these machines is so low," said Sgt. Maj. Glenn Del Rosario. "We just hope that our presence really makes a major impact, where they can feel some relief."