One of the 33,000 commenters (and counting) called them "the only kind of baby pictures I like."
Another wrote "this is honestly the best thing I have EVER seen." Someone else called it "distasteful, disturbing and creepy." Lots of people tagged their friends, and told them it was totally something they would do.
A few other people wrote "wtf?"
In case you haven't seen them yet, we should probably have said right away there's not a baby involved. It's actually a newly-adopted kitten who is absolutely adorable. The photos feature Schultz and her boyfriend, and are pretty similar to other birth announcement photos you might see on Facebook, only … well, instead of a human, it's a cat.
And the oversharing you might notice was -- very clearly -- a joke (because biology). Schultz is actually "birthing" the cat in some of the photos (we embedded the full Facebook post at the very end).
"So I've been thinking of this idea for a while becaus'e I'm totally a crazy cat lady who didn't have any cats," Schultz said. "So, I decided as soon as I got a cat, it's a big milestone for me and sort of like the hallmark of me settling down and starting my menagerie of future cats, and so the first one is pretty special."
So, she decided to do her own kitten announcement and had her friend, Elizabeth Woods-Darby, take the photos.
"It was definitely crossing my mind 'am I really doing this?'" Schultz said. "People think we're really extra, and it's the cat that's the most extra. We were just laughing at his expressions, and how he fell asleep."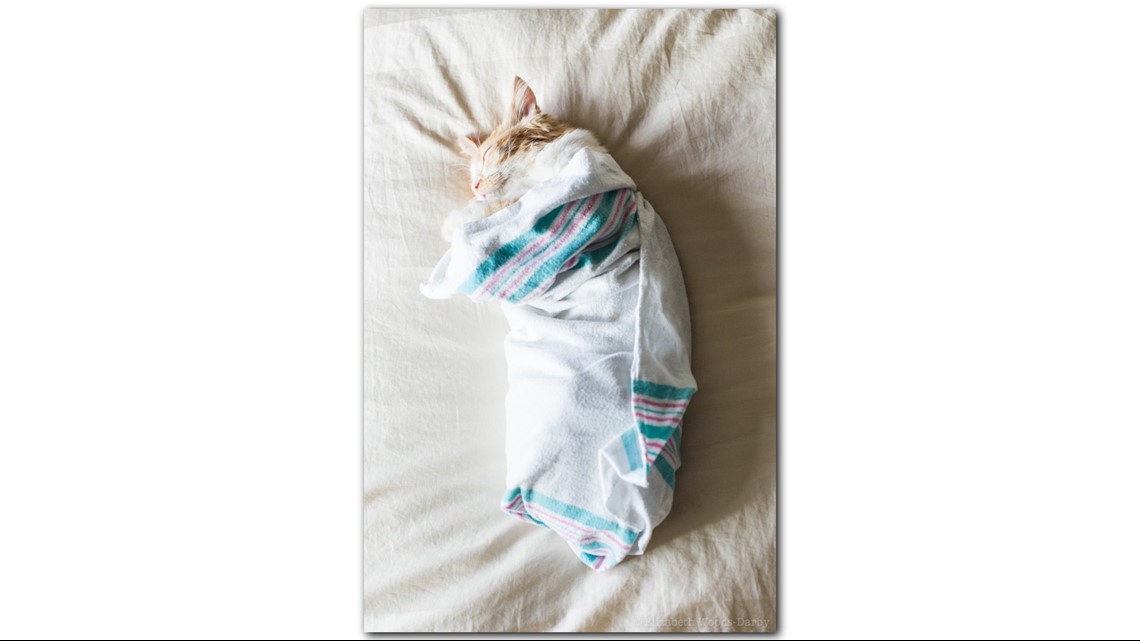 Schultz says the cat still hasn't been named. Per the Facebook announcement, he is 22 inches long and 6 pounds and 7 ounces.
She said she didn't mean for the photos to go viral. In fact, they weren't even public when they were first posted, but as she got more and more feedback, she says she decided to go ahead and share them with everyone.
"It's kind of shocking that it's the biggest thing that's happened to us, but there you go," Woods-Darby said.
Both Schultz and Woods-Darby agree that since the photos have taken off – which started on Sunday – they've gotten feedback both good and bad.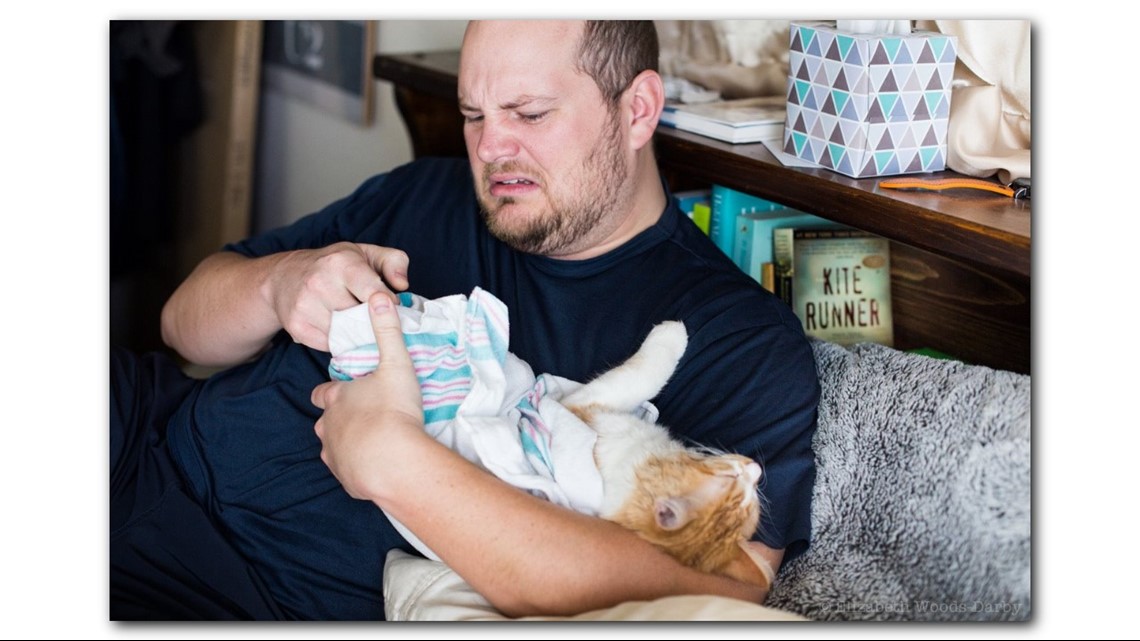 "Part of the reason it's been so popular is because of the polarity of people's responses," Schultz said. "You either love it or hate it, and there's a lot of discussion going on."
Schultz says the goal wasn't to make people uncomfortable, and that if people don't like her sense of humor, they can choose not to click on all the photos.
Her mom didn't quite know how big they had gotten. Schultz said her mom wasn't surprised she posted a cat birth announcement.
"She was totally like 'yep, that's my daughter, that's what would happen, so no surprise there," Schultz said.
Woods-Darby says she didn't really expect "cat birth announcement photos" to become what she's known for.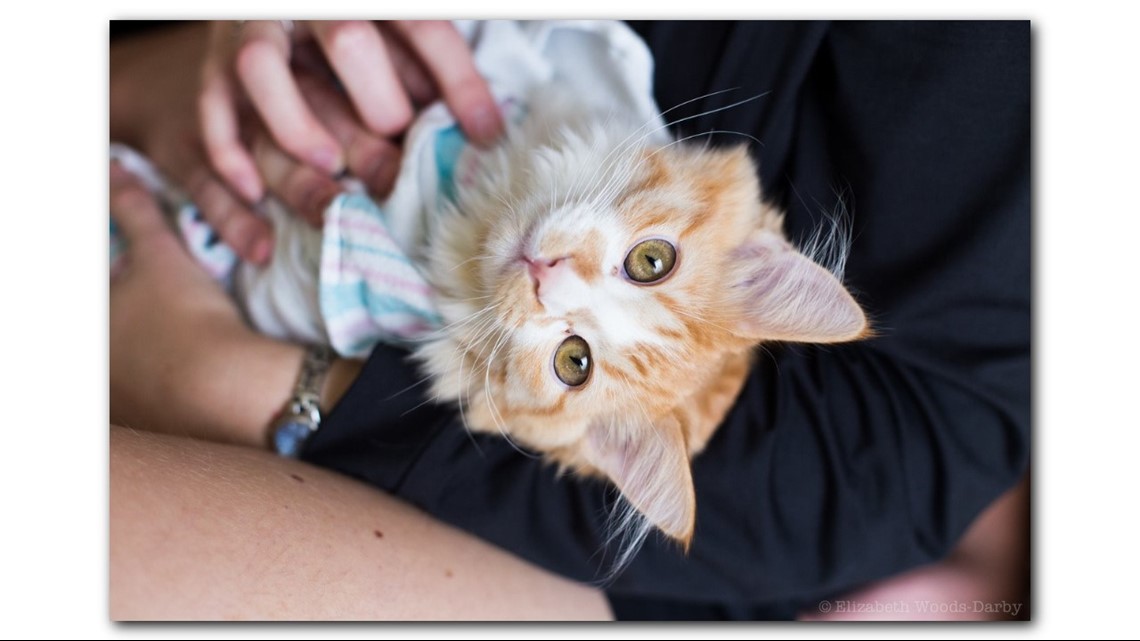 "It used to be like 'winning best actress' and now it's cat photos! You roll with the punches, you know?" she joked.
As for Schultz? Well, she says this was kind of inevitable, given how much she loves cats.
"I kind of can't believe and also can believe that I'm going to be known as the lady that gave birth to a cat," Schultz said. "That is something that would happen in my life, but it's also definitely surreal. It's fine. It's like if it's something that I'm ashamed of, then I would have a problem with it, but I was just so excited to share that I got to adopt my cat, that's been my dream! But to be known for that? It's like sure!
"People might think I'm a little odd, but I am, and that's ok with me!"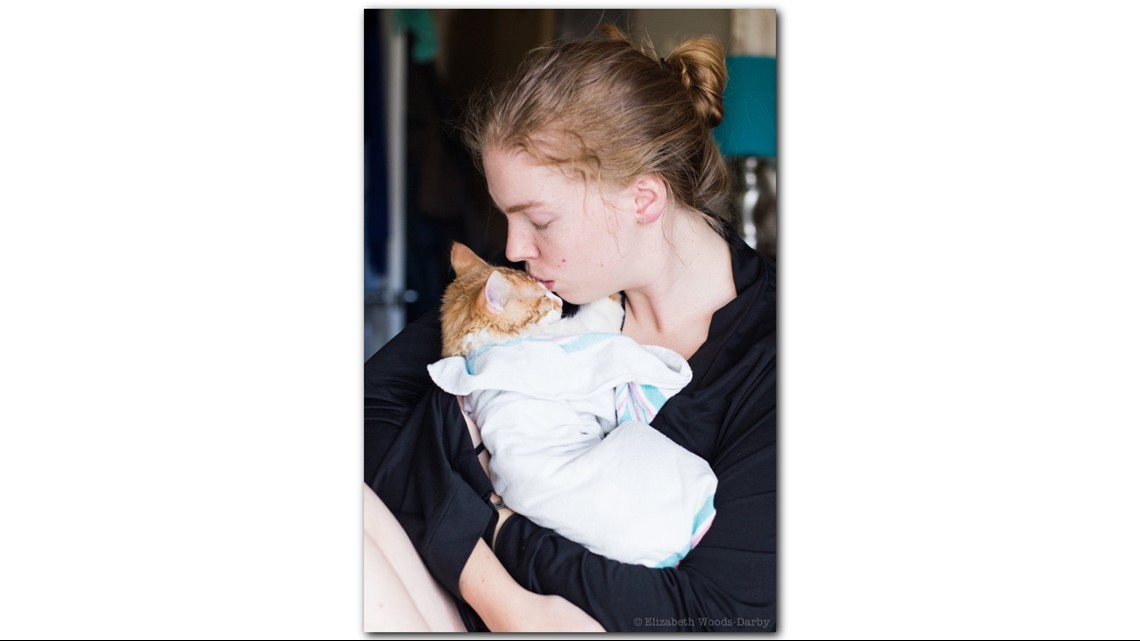 Since the photos have taken off, Schultz says she's been inundated with comments. She's decided not to let the negative get to her, but that there's one type of comment that's her favorite.
"[My cat] would definitely like a buddy, and some people have posted photos of their cats who want to date my cat, which is the most hilarious response so far," Schultz said. "I don't think he wants to do long distance. We'll have to keep it to local cats only."
Schultz's dream is to one day own a cat sanctuary, and to find her newest addition plenty of friends.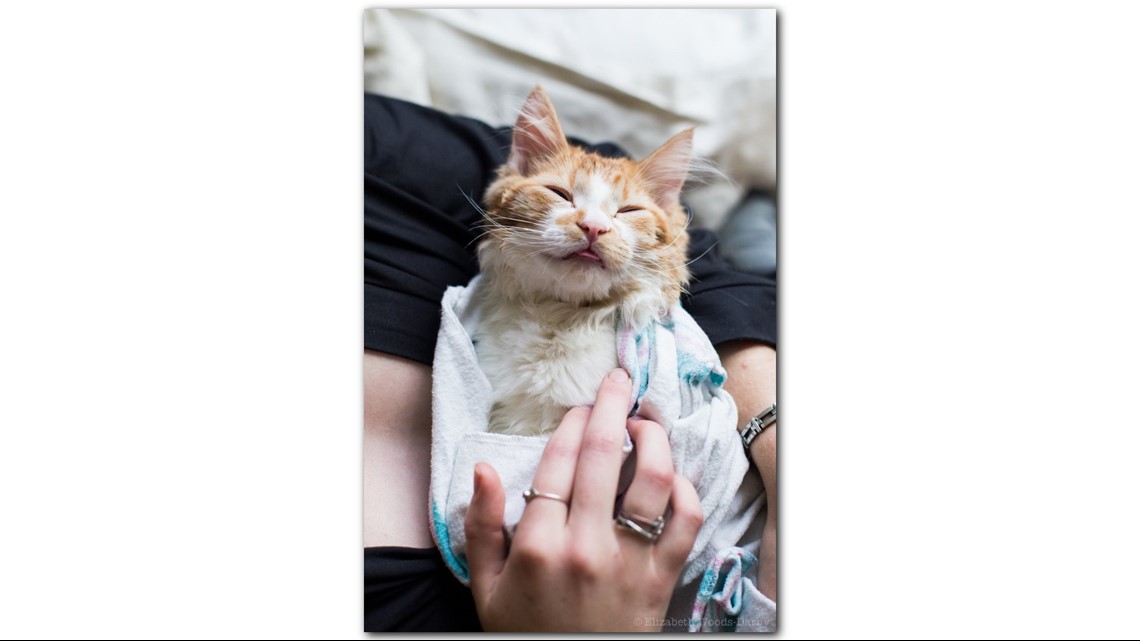 At the end of her interview with 9NEWS, she said the biggest thing she wanted people to take away from her viral photo was to go and adopt cats.
"I think he's pretty cute," she said.
You can see the full Facebook post below. Parts of it might not be totally safe for work (especially if you don't want to just confuse everyone you work with ...).