AUSTIN, Texas — Editor's note: This blog is no longer being updated. Click here for Friday's blog.
KVUE is keeping you updated with the latest coronavirus and COVID-19 news in the Austin area.
Scroll down for the top headlines and latest updates in KVUE's May 20 live blog.
Texas: More than 2.5 million cases have been reported in the state, and more than 49,900 people in Texas have died, according to the Texas Department of State Health Services.
Central Texas counties:

Travis County: At least 83,495 cases have been reported and at least 866 people have died. At least 82,149 people have recovered from the virus.
Hays County: At least 18,775 confirmed cases have been reported and at least 245 people have died. At least 18,265 people have recovered from the virus.
Williamson County: At least 39,584 cases have been reported in the county and at least 474 people have died.
For a look at COVID-19 data across all of the state's counties, click here.
GRAPHS: Coronavirus data May 19, 2021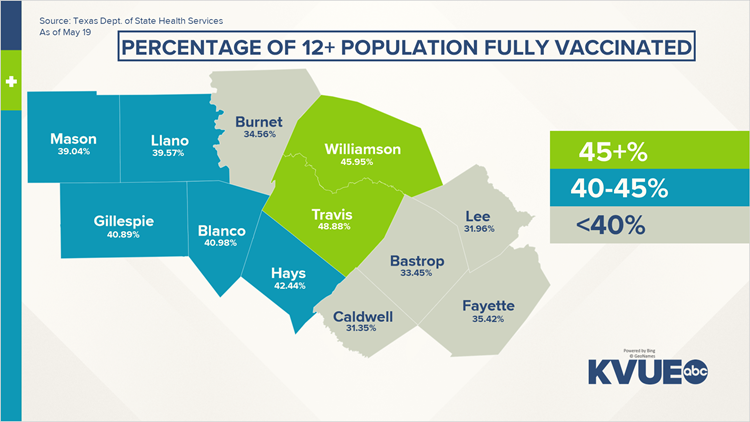 7:10 p.m. – Travis County reported 38 new confirmed COVID-19 cases on Thursday, bringing the total to 83,495 cases and 866 deaths since the start of the pandemic. At least 82,149 people have recovered from the virus.
Travis County currently has 96 people hospitalized with COVID-19, with 29 in the ICU and 15 on ventilators.
5:27 p.m. – The City of Pflugerville announces that starting on June 1, all of its public lobbies and facilities will reopen to the public. Residents will still be able to access many City services online and receive assistance over the phone. Many open facilities will expand their services as well. For more information, click here.
5 p.m. – The Texas Health and Human Services Commission (HHSC) is issuing new rules allowing nurse aide applicants to apply on-the-job work experience during the COVID-19 public health emergency to the 100-hour training requirement for certification.
"Certified nurse aides in training have contributed immensely to nursing facilities across the state during these challenging times," said David Kostroun, HHSC deputy executive commissioner for Regulatory Services. "We're offering this flexibility to help address staffing challenges in long-term care settings and provide stability to this critically important workforce."
Certified nurse aides (CNAs) are health care professionals who provide direct care services such as grooming, dressing and assistance with other activities of daily living to residents in facilities statewide.
This move by Texas Athletics follows UT leadership's updated guidelines that make face coverings optional on campus. Masks will also be optional at games and sporting events.
3:20 p.m. – The Central Texas Counties Vaccine Collaborative announced its drive-thru vaccine clinic will continue to be at the Travis County Exposition Center, located at 7311 Decker Lane. The clinic is open to ages 12 and up. The consent of a parent or guardian is required for ages 12-17, and the parent or guardian must be present and in the vehicle when they arrive at the Exposition Center. No appointments are required.
Friday, May 21, 2021: 9 a.m. – 5 p.m. (first doses)
Saturday, May 22, 2021: 9 a.m. – 5 p.m. (first doses)
Sunday, May 23, 2021: 9 a.m. – 5 p.m. (first and second doses)
11:50 a.m. – Texas has surpassed 50,000 cumulative COVID-19 deaths, with 50,051 as of today's update. This is over a span of 430 days, from March 15, 2020, to May 18, 2021. That's an average of about 116.4 deaths per day.
11:40 a.m. – Gov. Greg Abbott announces that the Texas Health and Human Services Commission (HHSC) has received approval from the USDA for a second round of federal Pandemic Electronic Benefit Transfer (P-EBT) food benefits for families with children who have temporarily lost access to free or reduced-price school meals due to COVID-19 during the 2020-21 school year.
In this second round of P-EBT, HHSC received federal approval to provide more than $2.5 billion in benefits to approximately 3.7 million eligible children in Texas. The first round of P-EBT was distributed last summer and provided more than $1 billion in food benefits to more than 3 million children.
P-EBT provides a benefit of up to $1,200 per child for the school year. The amount of the benefit is based on the school the child attends and is determined by the number of days that most students at that school received remote instruction during the 2020-2021 school year. P-EBT benefits can be used in the same way as Supplemental Nutrition Assistance Program (SNAP) food benefits to pay for groceries. The administration of P-EBT is a joint effort by HHSC, the Texas Department of Agriculture (TDA) and Texas Education Agency (TEA).