CHEROKEE COUNTY, Texas — The preliminary autopsy reports reveal the probable causes of death for the victims of a recent quadruple-murder in Cherokee County.
According to the Cherokee County Sheriff's Office (CCSO), a call came in Tuesday morning regarding a body lying in the driveway of a home in the 1600 block of Highway 110 N.
When officials arrived on scene, three more bodies were located in the house.
The victims have been identified as:
John Clinton, 18
Jeff Gerla, 47
Ami Hickey, 39
Amanda Baine, 39
According to the CCSO, the following were taken into custody and charged with capital murder in connection with the crime:
Dylan Welch, 21, of Jacksonville
Billy Phillips, 37, of Jacksonville
Jesse Pawlowski, 20, of Jacksonville
Bonds have been set at $1 million each.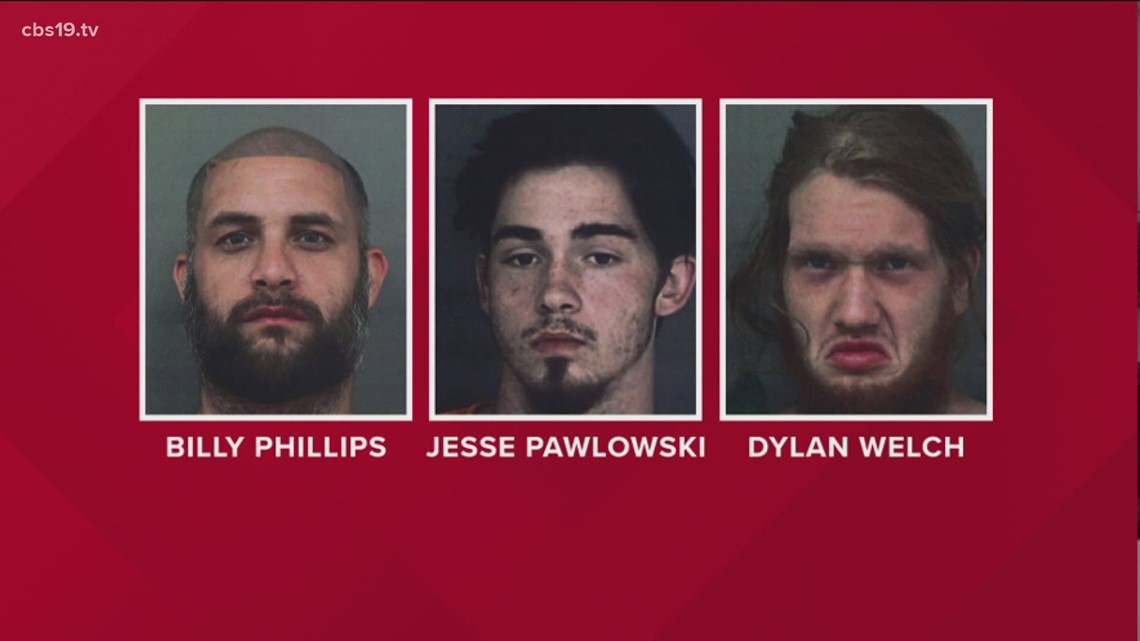 THE CRIME
A 911 call was placed by a woman who lived across the street from the crime scene. She woke up and saw the body in the driveway, but was unaware of the bodies in the back.
George Tennison has lived in the area where the bodies were found for the past seven decades.
"Nothing like that's ever happened around here," Tennison said. "And I've been here 72 years."
The four victims include a mother and son. According to a probable cause affidavit, Pawlowski met Gerla and Clinton on a dating app and started a romantic relationship with them.
In an interview with detectives, Pawlowski said he found out Clinton had a gun he wanted to sell. The affidavit states instead of buying the gun, Pawlowski and the other suspects planned to steal it.
Court documents also say the night the three suspects planned to steal the gun, Pawlowski had Phillps and Welch meet him at Gerla's home and brought Clinton outside to exchange the gun.
What happened next is unclear. All suspects gave different accounts in their interviews with detectives. However, what is clear, according to the affidavit, is Clinton was shot in the back of the head and left in the driveway.
The three other victims who were in the home were found dead with gunshot wounds, as well.
According to the preliminary autopsy reports, the following were identified as the causes of death for the victims:
Clinton - Gunshot wound to the neck with extension to the head
Gerla - Gunshot wound to the head
Bain - Gunshot wounds
Hickey - Gunshot wounds
"Our citizens are definitely safe now that these individuals are off the streets," Sheriff Dickson said.
This is a developing story and CBS19 will continue to update this article as more information becomes available.