DALLAS — It took 34 years.
But now when Tyrone Day tells you he is an innocent man, he knows that the law and the Dallas Country district attorney will vouch for him and stand by his side.
In late 1989, an 18-year-old woman reported a sexual assault near Fair Park. She said she had been attacked by three men. And, as police interviewed her, she pointed to a Black man walking nearby wearing a white hat.
Day wore a similar hat as one of the woman's assailants. That single witness' testimony led to Day's arrest and a threat of a criminal trial -- for which he would face 99 years to life if convicted.
Day was poor, couldn't afford an attorney, and accepted a plea deal of 40 years, with a suggestion from his legal counsel that he might be able to get out of prison on parole in just four years. Instead, he lingered in prison, all while fighting his conviction for nearly 26 years.
Extensive re-investigation by the Dallas County District Attorney's Office Conviction Integrity Unit (CIU) and DNA testing concluded that Day is "actually innocent."
While out of prison and on parole for nearly eight years now, Day had to stay registered as a sexual offender. But, at an exoneration hearing Wednesday, May 24, at Dallas County Criminal Court, his name was finally, and legally, cleared.
Day's family erupted in cheers when the judge made it official.
"Mr. Day, how the heck are you," WFAA reporter Kevin Reece asked him afterward.
"I'm fine. Great," Day said. "It's been a long time coming. I'm great. It gives me a sense of relief with the injustice that was done."
"Mr. Day, the state apologizes for this miscarriage of justice against you," said Cynthia Garza, chief of CIU. "We apologize for the time that you've lost, and we wish you the best of luck going forward."
Day's case was pursued by the CIU, in collaboration with Day's attorneys at the Innocence Project. There was DNA evidence in his case and they agreed to extensive DNA testing as part of the re-investigation with technology that was not available in 1990. It excluded Day as a genetic contributor to the evidence collected at the time, and it implicated two separate unnamed assailants.
"This is just another example of never giving up because you know what the truth is. And we're finally here today and I'm happy to stand behind him," Dallas County DA John Creuzot said as he, literally, stood behind Day following his exoneration.
"We're dismissing this case because he didn't do it," Creuzot said, as Day's family and friends applauded again.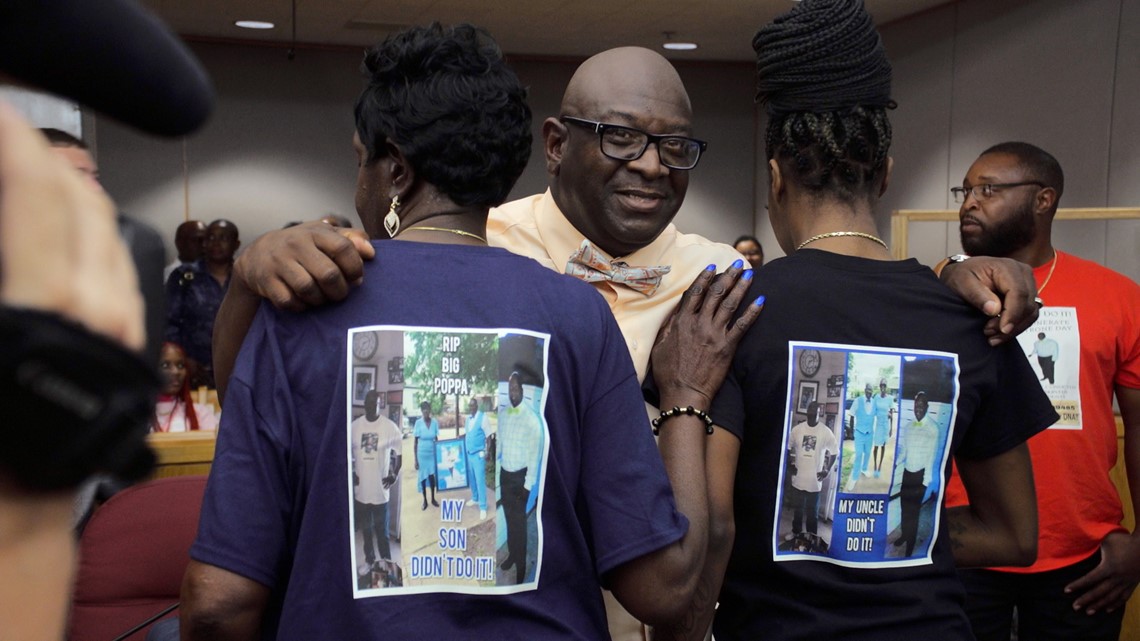 "We are pleased to be able to right this wrong, and while we know Mr. Day can't get back the years lost, we hope he finds some solace in seeing that justice has finally been done today," said Creuzot.
"That's the weight that's been lifted up off my shoulders. This is justice right here today. This is justice," Day said. "I can't explain it. But it's overwhelming."
In the time he's been out of prison, he's shown who he really is, starting Restorative Farms in South Dallas, helping people from poor backgrounds just like his and fighting food insecurity and poverty and the same time.
Next for him, an eventual financial payment from the State of Texas: the dollar amount yet to be determined. But today, he'll accept the priceless gift of his good name.
"And I made it by the grace of God," he said.
The Innocence Project says that eyewitness misidentification has contributed to approximately 63% of the 243 wrongful convictions the organization has helped overturn. And the factors that contribute to it include challenges associated with cross-racial identification.
"I would say never give up," Day said, when asked what he would say to other inmates pursuing their own exonerations. "Keep pursuing your justice, your freedom. Keep pursuing the truth, because that's what I did."
This marks the 44th overall exoneration (cases of actual innocence) for Dallas County since 2001 when the post-conviction DNA statute went into effect.