ATHENS, Ga. — A public viewing took place at the Hill Chapel Baptist Church in Athens Friday evening in memory of 21-year-old Alexis Crawford.
Mourners braved cold, rainy weather on Friday evening for the service. The focus, however, was not on how the Clark Atlanta University student died, but on how she lived.
For those who attended, Crawford's memory brought light into the darkness, as she was remembered as a kind, loving young woman with a bright future, which cut far too short, far too soon.
The family received friends, family and even strangers who came not just from Athens, but who traveled from Atlanta and elsewhere through 8 p.m., in advance of Saturday's funeral services, which are set for noon at Cornerstone Church in Athens.
The overwhelming support for the Crawford family has led them to shift the funeral from its originally planned location to the larger venue.
"Well wishes, cards, and financial contributions to assist the family with covering the costs of having to unexpectedly bury this beautiful 21-year-old Clark Atlanta University student should be made directly to Gregory B. Levett and Sons funeral home at either of their locations," said family spokesman Rev. Markel Hutchins.
Hutchins said the family is "truly grateful and encouraged by the ourpouring of love and concerrn they have received" from around the U.S. and the world."
Singer Teyana Taylor paid a special tribute to Crawford during her Atlanta concert Friday night.
"Baby girl, Alexis, rest in peace, my love," Taylor said on stage. "My prayers go out to the family of Alexis Crawford."
Photos: Vigil for Alexis Crawford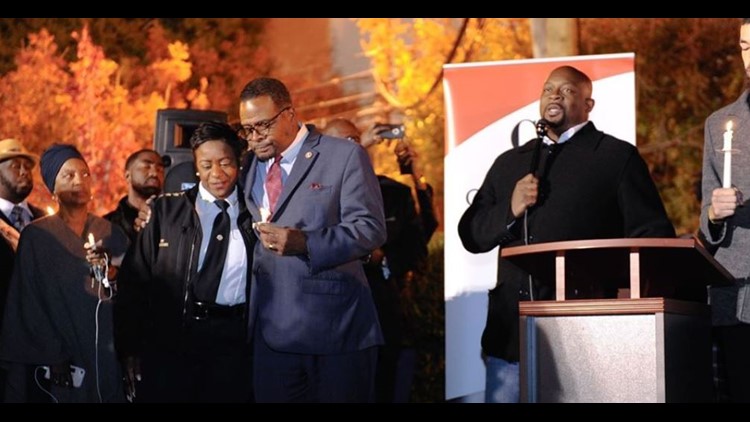 Crawford was originally reported missing to police on Nov. 1. Her body was found in a DeKalb County park a week later, on Nov. 8.
Police have arrested and charged Crawford's roommate and roommate's boyfriend, Jordyn Jones and Barron Brantley, with her murder. A motive has not been announced. Both remain in the Fulton County Jail without bond.
11Alive.com plans to carry coverage of the Alexis Crawford memorial at noon on our website, YouTube page and our app.