TYLER, Texas — In honor of World Down Syndrome Day, Kendra Scott in Tyler is donating part of its sales to a local group with a mission of empowering families impacted by Down syndrome.
East Texas Down Syndrome Group said 20% of purchases on Tuesday, March 21 from 4 to 6 p.m. at Kendra Scott in the Village at Cumberland Park shopping center will go toward the nonprofit.
Macey Bunger, an ETDG representative, will be at the Kendra Scott Tuesday evening for the fundraising event.
Those who can't make it to the location Tuesday evening can shop online using the code GIVEBACK-DRFPX on Tuesday and Wednesday at kendrascott.com.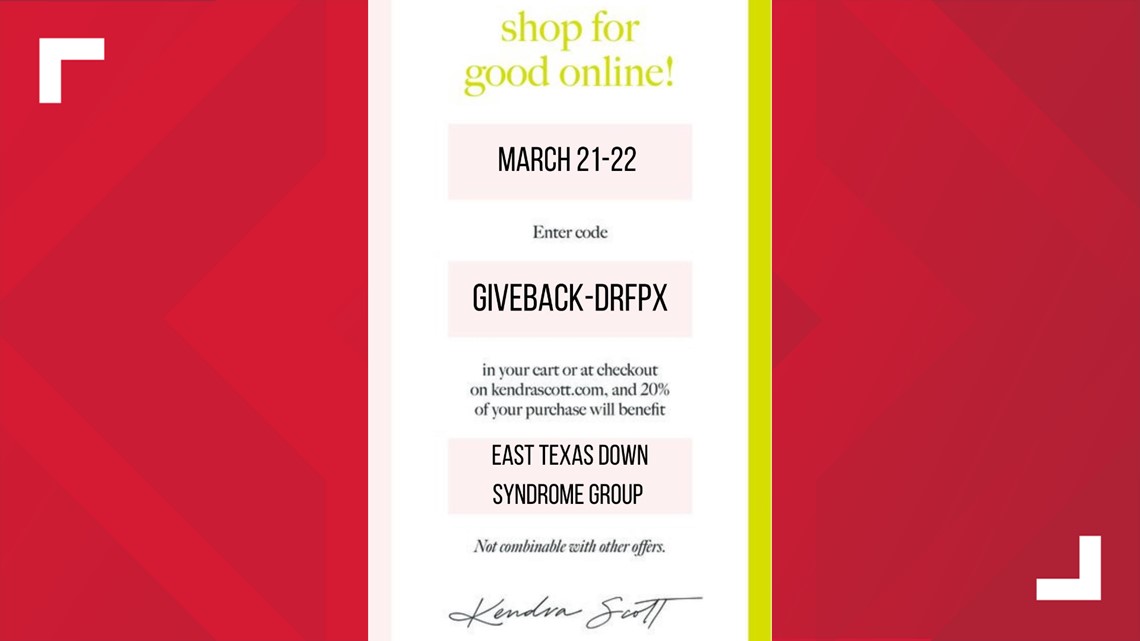 "Please share this with your friends! Everything raised goes to help advocate and improve the future for our kids - and who doesn't enjoy some bling along the way," the ETDG Facebook post read.
The group's mission includes supporting people with Down syndrome and their families, educating community members about people with Down syndrome and promoting acceptance and inclusion.
ETDG primarily serves the following counties: Gregg, Smith, Harrison, Marion, Upshur, Rusk, Panola, Cherokee, Camp and Wood. Its secondary counties include Cass, Morris, Titus, Rains, Van Zandt, Henderson, Anderson, Cherokee, Houston, Trinity, Angelina, Nacogdoches, San Augustine, Sabine and Shelby.
World Down Syndrome Day is celebrated every year on March 21 to raise awareness about the condition in which a person has an extra
chromosome, also known as Trisomy 21. One in every 800 babies are born with Down syndrome.
According to the website recognizing the day, wearing colorful, crazy or mismatched socks is a method of educating more people about Down syndrome.

"The idea is to start a conversation, so when people ask you about your socks you can tell them, 'I'm wearing them to raise awareness of Down syndrome,' the website reads. "And then you can tell them everything you want them to know about Down syndrome."