KILGORE, Texas — More than 1,000 homes in Kilgore are still without power the night after storms brought straight-line winds to the area.
Many of them spent the day clearing their yards, or pulling trees and branches out of the roadways.
RELATED: WE'VE GOT YOU COVERED: Widespread damage, road closures reported after Thursday morning storms hammer East Texas
The people living on or near Clay street and Jacomah Lane stayed positive and helped each other out, even while trapped on their streets.
"Our neighbors had some really tall pines, and they fell across the road," Cindy Edmonds said. "And we were not able to get any of our cars out because they blocked our driveway."
Trees and power lines didn't just trap them in their driveways, they also trapped a few people to drive into town.
"Yeah, this guy couldn't get out, she couldn't get out," Ken Gonser said, as he helped clear his sisters yard.
"You can kind of go around this way," Gonser said pointing around a corner.
In the other direction, there was still hanging power lines across the roadway. Power lines were also wrapped around trees and laying in peoples yards.
"They kind of wrecked the front yard," Edmonds said, "there was a stump that stands about 10 feet tall and it broke the fall of the tree, and it snapped there. And it kept it from actually hitting our home."
Instead of landing on top of their roof, the tree landed one foot away from their porch.
Many in the neighborhood are making plans to "rough it" for the next few days.
MARCH 14, 2019: Storm damage across East Texas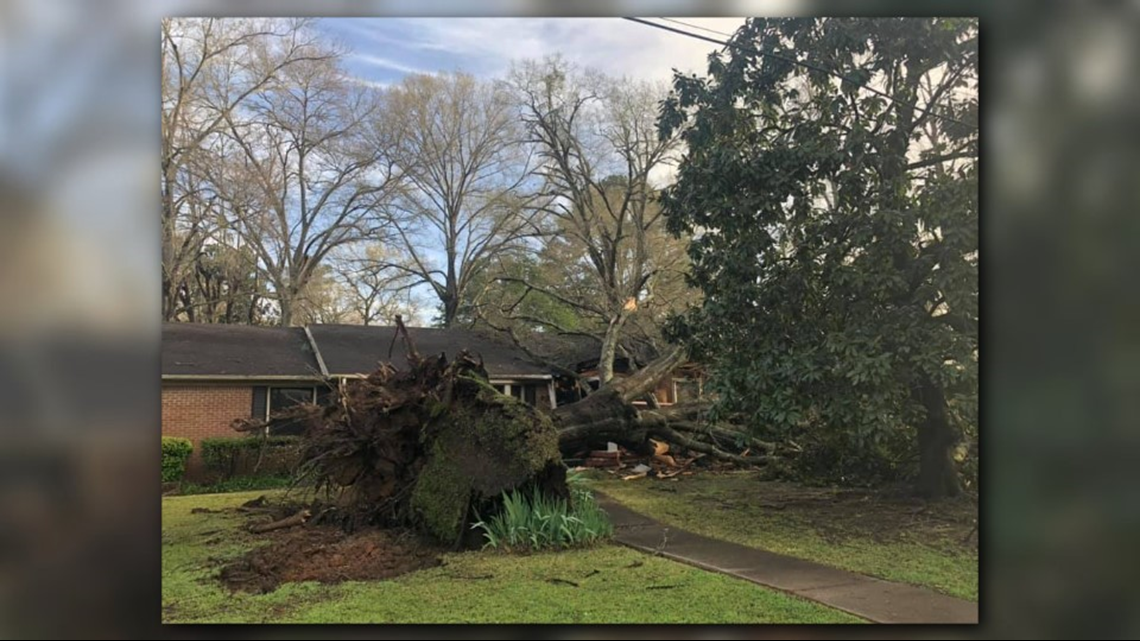 Edmonds says they are getting a generator in for the freezer and then will open the windows and stay home.
Gonser is getting a generator for his sister's house and then bringing her and her husband to stay with him. They are planning on cleaning up more tomorrow.
A few people have gone to nearby hotels.
"The insurance providers, they were out here looking, and they've put some people up in hotels already," Edmonds said. "Some of the ladies from our church are already in a hotel because their homes are not livable right now."