The Tyler Police Department confirmed the U.S. Marshals arrested Jesse Lee Williams, 40, for the murder of Paula Belonga, 51, after officials obtained evidence allegedly pointing to Williams' involvement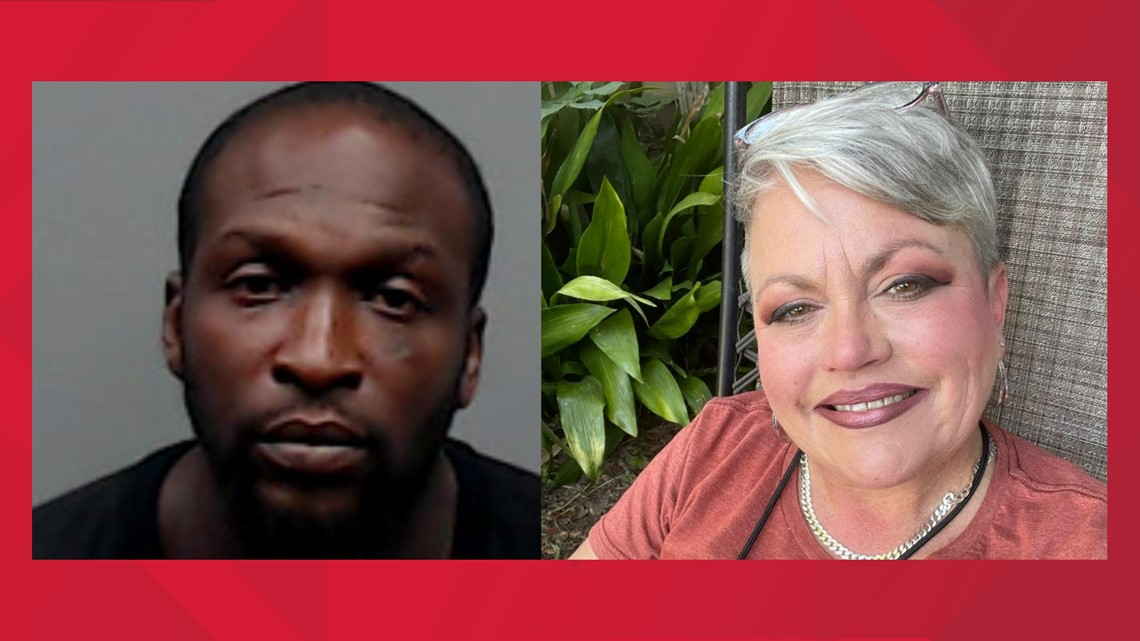 Belonga was last seen on Friday, April 7 leaving her apartment complex in the 4400 block of Paluxy Dr. in her white Chevrolet Impala. About five days later, her car was found in Zavalla.
According to the arrest affidavit, on April 9, police received a call from Belonga's brother to request a welfare check after she hadn't answered his phone calls and text messages in a few days. He said she was supposed to pick up her son in Louisiana that day and also provided police with her phone number.
Police went to Belonga's apartment in the 4400 block of Paluxy Dr. and she, nor her white 2014 Chevrolet Impala, were at the property.
Officials pinged Belonga's cell phone and it showed the location to be in Zavalla - which was the midway point between Tyler and Lake Charles, Louisiana - where her son was.
The next day, Belonga's friend called police to have them respond to her apartment again. The friend explained Belonga's therapy animal, who typically went with her everywhere, was still in the unit and she still wasn't answering calls or texts. She said it was very unlike Belonga to just disappear without any explanation. Belonga's friend has also invited her over for an Easter event at her church. Belongna reportedly promised she'd be there, but never showed up.
The affidavit states a second ping was performed on Belonga's phone and this time, it registered at 1701 FM 1797 in Tatum. The information was relayed to the Rusk County Sheriff's Office which responded to the location and located Belonga's vehicle parked next to a single-wide mobile home on Lot #2.
Officials say they contacted a female resident at the mobile home park who said Williams had Belonga's car off at the home and said he was watching the car and the house for someone who was out of town. The resident gave authorities Williams' phone number, as he was not at the location when they arrived.
Per the affidavit, officials called Williams who claimed he had just gotten off the phone with Belonga and she "sounded OK." He then gave deputies a number where he said they could reach her, but nobody ever answered.
On April 11, law enforcement went back to the mobile home park where Belonga's vehicle had been to look for evidence of foul play and it was no longer there. According to the affidavit, the same resident officials spoke with before said Williams had returned and moved the car before authorities showed up.
The affidavit states the female resident said she and Williams were in a relationship and lived together for about two weeks until he assaulted her and her teen daughter. Authorities had responded to the incident and Williams voluntarily left the residence and no arrest was made at that time. The woman then told officials how Williams liked to hog hunt and did not have a job.
Officials called Williams again who claimed to be hog hunting out by Tiger Creek Wildlife Refuge in northern Smith County. The affidavit says authorities didn't know until later Williams was actually in Zavalla at the time of the call. Officials told Williams they were looking for Belonga and wanted to check out her vehicle. Law enforcement says Williams claimed to have the car and said he would meet them at the Tyler Police Department 3 p.m. that day. He never showed up for his appointment.
On April 12, officials reached out to AT&T for location data on Belonga's phone. After receiving the search warrant, officials learned Belonga's last cell phone location, which was April 10 at 1:08 p.m. was at or near 441 S. Jefferson St. in Tatum. Officials responded to the area, but didn't find any signs of Belonga or her phone. Surrounding residents also claimed to have not seen Belonga.
Per the affivadit, officials say they called the number Williams had given them for Belonga again, to know answer.
They then texted the number through Google Voice and received the following response about an hour later:
"Please leave me alone. I am fine out of state with my man so please leave me and my friend alone."
Officials say they believed they were speaking with Belonga and told her they needed to speak with her further since she was entered as a missing person.
They received the following text back 15 minutes later:
"Well you can take it off cause I want nothing to do with any of my family cause all they do is lie and use me. I'm so over them and there [sic] bull****. And as for my friend Jesse y'all need to leave him the f*** alone. I paid him to watch my dog. I['m not talking to you or anyone else, so please leave me alone and let me live my life the way I want to."
Officials looked up the number they were given for Belongna with the carrier who said the number had been provided to Onvoy, Inc. Authorities reached out to the company who provided documentation allegedly showing the number was registered to Williams.
According to the affidavit, after issuing another search warrant to AT&T for Williams cell phone location, law enforcement learned his' phone was also pinging in Zavalla on April 12 at 12:58 p.m. The Rusk County Sheriff's Office then obtained an arrest warrant for Williams pertaining to the assault of his girlfriend two weeks prior. The Angelina County Sheriff's Office was also alerted of the warrant and Williams' last known phone location.
The ACSO then responded to the ping location, a single-wide mobile home at 280 Broaddus Dr., where they located Belonga's vehicle. The affidavit states Williams was also found at the residence and arrested on the warrant out of Rusk County.
The vehicle was taken to the ACSO for inspection. Officials say the car was covered in dirt, mud and grass, and appeared to have been driven off-road on rough terrain. The front bumper had also been damaged and was hanging down.
When Williams was taken to the ACSO following his arrest, he was in possession of car keys for the Impala, a cell phone, wallet and the clothes he was wearing when he was taken into custody.
The affidavit states as officials searched Williams' wallet, they found a black personal check belonging to Belonga. There was also another completed check from Belonga's account which was made out to Williams for $1,445 for "parts and labor." After comparing the handwriting and signatures on the check to Belonga's penmanship, officials said they were very different and believed to be forged.
Per the affidavit, officials then began to interview Williams who was first read his Miranda rights. Authorities say they obtained a statement from Williams and most of the details were proven to be false. He said he was living with his "wife" in Rusk County and was home alone. He claimed Belonga drove to his house on April 7 with a red suitcase and U.S. passport. He said Belonga told him to take care of her car and dog before leaving with a man named "Corey Smith" in a blue pickup truck. After authorities performed a search using the name "Corey Smith" and details given to them by Williams, they say they did not find a match close to the description.
The affidavit states, based on Williams' phone location data, authorities were able to determine Williams had been at Belonga's apartment all night April 6 and all day April 7. Williams said he met Belonga in New York between 2018-19 while working as a door-to-door salesman and in a warehouse. He said he and Belonga never dated or had an intimate relationship.
Officials seized Williams' cell phone, which was password protected. Williams reportedly claimed not to know the seven-digit code to get into his device. Finally, on April 27, officials say Williams gave them the correct passcode to unlock his phone.
Once the data from Williams' phone was downloaded, law enforcement reviewed messages between Williams and Belonga which began on Dec. 4, 2022. The pair exchanged text messages and photos, during which Williams allegedly referred to Belonga as "sweetheart" and "beautiful."
The affidavit states Belogna asked for Williams' address on April 3. That same day, Williams reportedly traveled to Tyler from Tatum and stayed with Belonga for five nights, leading up to the morning of April 7. That morning, officials say Belonga left for work around 7 a.m. She then came home around 3:15 p.m. before going to Target. She then went to Walmart before coming back to her apartment. She and Williams then reportedly began driving north on Paluxy Dr., then east on Loop 323 and south on Spur 248. The duo was seen driving together.
Then, around 5:10 p.m., their phones pinged on or near a public rest stop at 8226 SH 64 in Henderson. The rest stop is across from CR 4148, which leads to a heavily wooded area of about 1,500 acres.
"The unimproved county roads that run throughout this property can be traversed by an automobile, however, the terrain would be difficult if driven in a sedan, but not impossible," the affidavit said.
Officials responded to the wooded area to see if they could find any evidence of Williams or Belong having been there. They say the color of the dirt roads matched the dirt and mud stuck on the sides of Belonga's vehicle when it had been found.
When the forensic analysis of Williams phone had been completed, officials say Williams' previous search history revealed the following:
How to muffle sound of gun with sock
Will hitting a person in the head with a gun kill them
How do cops trace a cell phone
Body found in Rusk County Texas
Henderson Daily News
How to write a check for 1445
Ruck County most wanted
How to unlock my iPhone passcode without computer
Body found in Rusk County Texas
How long does it take for a body to decompose to bones
How long does it take for a body to decompose in hot weather
Body found in Henderson Texas today
Body found in Rusk County today
Missing woman Tyler TX
The affidavit states Texas EquuSearch was notified of the case and traveled to Rusk County to help search for Belonga.
On May 22, a gold chain necklace was found on the side of CR 4148. The necklace was photographed and collected as evidence. Officials say there are numerous photos in which Belogna can be seen wearing a necklace identical to the one that was found. A small bone was also found about 50' from the necklace. The bone was sent off for further analysis.
Per the affidavit, when officials confronted Willams about the phone number he had given them for Belonga actually being registered to him, he admitted the messages came from his phone and not Belonga's.
A search of Belonga's apartment and vehicle were conducted and officials say they found no evidence of a crime scene. The affidavit states Williams had a hunting bag in the front passenger seat that contained unspent .22 long rife bullets, but no firearm. Authorities also received Belonga's financial records which showed no activity, other than her employer depositing her check, after April 7.
The evidence collected led officials to issue an additional arrest warrant for Williams for the murder of Belonga.
Williams was booked into the Smith County Jail where he remains on $750,000 bond.