SAN ANTONIO — In 2016, two dedicated San Antonio educators moved into their dream home.
On Sept. 8, they watched in agony as flames ravaged the house they worked so hard for.
Now, the couple is on a mission to rebuild on the same property.
"My neighbor across the street kept calling me and calling me," said Shirley Harris. "After six calls, I said, 'Something is wrong.'"
Shirley was at work when the flames broke out at her home off Pine Lake Drive on the northeast side. Her husband, Lane, says he was dozing off at their computer when he suddenly woke up to the smell of smoke.
He initially thought a neighbor was barbecuing out back.
Then he opened his front door.
"I saw one of my columns, I have three on the front porch, one was on fire," Lane said. "I tried to put it out, but just a trickle of water came out because there was a hole in the hose."
Lane says it felt like an eternity waiting for help.
"It was just devastating for me to stand here and watch it," he explained.
It took four and a half minutes for fire crews to arrive, he was told.
During that time, Lane ran back into the home to grab his wallet and a few valuables within reach.
"I said I better get my car out. So I went back in a third time. That's how I got the burns here and on my arms because things were starting to fall down," said Lane.
Lane, who has trouble walking, tried to look for his walker. But the wheels were burned off.
Shirley said she initially couldn't get a hold of her husband, causing her to panic.
"[My neighbor] sent me a picture and I'm like, 'Whose house is this? What is this?' She's like, 'It's your house.' I lost it. I just started crying and the first thing I thought was, 'Did [Lane] get out? Did he not get out?'"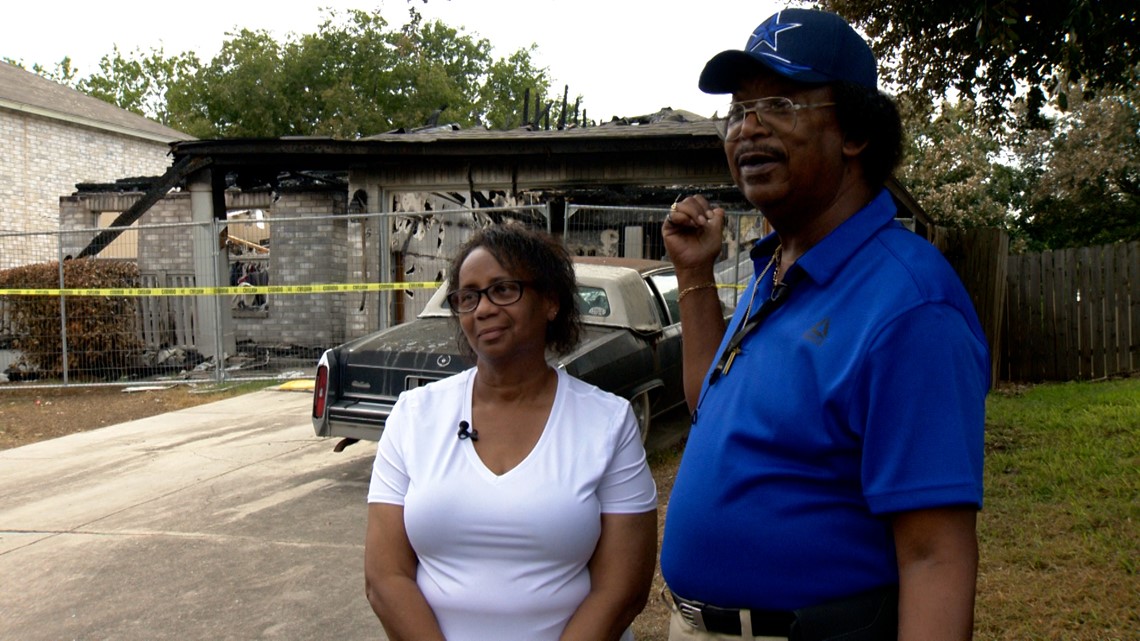 Now, cherished keepsakes are gone.
"My great-great grandmother who was born during slavery, that's the only picture we have in the family," Lane explained, mentioning how the day before he discussed with his sister the need to make a photo copy.
Shirley's porcelain dolls and Lane's handmade train collection are now merely a memory.
"That train collection. You need to have seen it," said Lane. "It was a lot of fun for all the grandkids who wanted to come over. They wouldn't want to leave."
According to Joshua Everetts, the fire captain for Bexar County ESD 11, the cause of the fire remains under investigation. Everetts deemed the house a total loss.
However, one thing remained untouched: An iron cross hanging on the Harris' kitchen wall.
"I consider that like faith that God is going to work with us to rebuild," said Shirley. "I cry every day, but I'm keeping the faith. If I don't have faith, there's nothing left. We have each other, so thank God."
The Harris family is waiting for insurance officials to examine the inside of the home. Earlier this week, an insurance representative examined the outside of the structure.
Until the interior examination is done, the Harrises can't get any insurance money for a hotel room.
In the meantime, they're staying with family close by.
"Hopefully the insurance company comes up with the money so we can do it," said Lane.
"I could move somewhere else and say I can be happy, but this was my home," Shirley added. "This was our home. This was our dream home."