Nearly nine years after her home was rebuilt on national television, Arlene Nickless is turning in her keys.
The Holt resident must leave her Eifert Road home by Monday after years of struggling to manage the mortgage.
Designers with ABC's "Extreme Makeover: Home Edition" — with the help of hundreds of volunteers — built the home in 2008 following the death of Tim Nickless, her husband of 18 years.
The home was foreclosed on in September, and has been up for online auction for weeks.
On Sunday, cardboard boxes were stacked on the dark hardwood floors once showcased in nationwide broadcasts. The 2009 Ford Flex gifted with the home sat in the driveway hooked to a moving trailer. And the overwhelming feeling a tearful Arlene Nickless had all those years ago took on a different tenor.
"When I stepped out of the house the day Extreme Makeover came, you will see me say 'I can't believe this is happening,'" she said. "And, truthfully, that's what I feel right now: I can't believe this is happening."
Nickless is quick to defend the ABC show, whose lavish rebuilds have, in some cases, led to foreclosure because of increased property taxes and pricey utilities. She's less complimentary of her mortgage servicer that is now being targeted by state regulators.
She said her home's foreclosure resulted from an ongoing struggle to manage the property's pre-makeover mortgage — a balance that rested at about $30,000 after the 2008 makeover, but had ballooned to at least $113,000 by the end of 2016.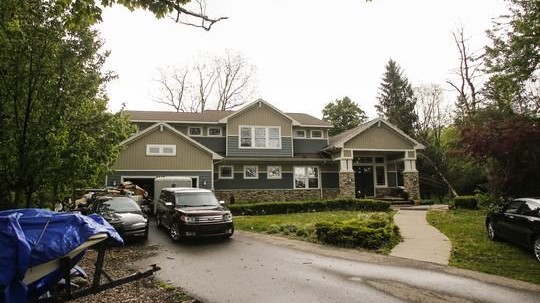 A prayer answered
Crews from "Extreme Makeover: Home Edition" arrived at the Nickless family's doorstep in September 2008, about nine months after Tim Nickless died.
A nurse at Ingham Regional Medical Center, Tim Nickless was believed to have contracted hepatitis C after being pricked with a patient's contaminated needle. He battled the disease for seven years before his death in January 2008.
More than 1,600 volunteers from the Holt area joined the show's crew to rebuild the Nickless family's home, an 1860s farmhouse that had fallen into disrepair during Tim's illness.
The old home was demolished, and after a five-day building period, Arlene Nickless and her three sons received a new 3,300-square-foot, four-bedroom home with stone columns, dark wood floors, an indoor water wall, and a retractable flat-screen television.
The home included a LEGO-themed room, another bedroom with blueprints covering the walls, and an airplane bed for Arlene's youngest son.
The construction brought the community together in the midst of the economic downturn, said Karen Schroeder, vice president for East Lansing-based Mayberry Homes, the general contractor for the home.
"It was really at a time when everything was so solemn, so gray," Schroeder said. "It kind of put a spark back in the Lansing area."
Schroeder said, after the home makeover, state and banking officials were able to whittle the Nickless family's mortgage from about $140,000 to $30,000, and lower the interest rate considerably.
But the home's annual taxes more than tripled from 2008 to 2009, according to county records, from about $2,000 in 2008 to about $7,500 in 2009.
Those increased taxes and insurance costs would be paid for over the next several years through an escrow account in the home's mortgage, bloating the Nickless family's monthly mortgage payments.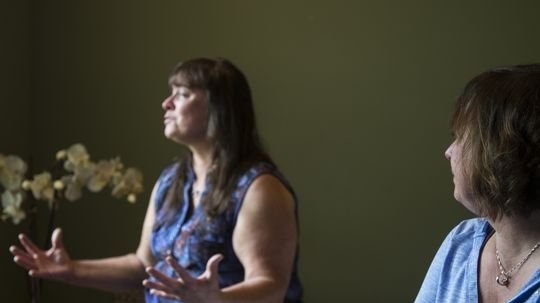 Mortgage struggle
In 2010, Nickless was in a car crash that caused her to fall behind. By the end of 2010, the property went to a sheriff's sale.
She filed paperwork to stop the foreclosure the morning of the sale and the sheriff deed was expunged, according to county records.
At that time, Nickless said, the mortgage lender offered to pay off the mortgage's balance if she could come up with $15,000. Before she had a chance to gather the money, she said, her mortgage was acquired in 2011 by Ocwen Financial.
For the next several years, Nickless struggled with the loan.
She tried mortgage affordability programs but, in some cases, the home's new equity disqualified her from those payment tracks. She tried to find answers from the mortgage company, but said she could rarely connect with someone who could speak English. She said she withheld mortgage payments because she didn't know where she was sending her money.
"I was trying to find answers," she said, and the information she found online about Ocwen wasn't encouraging.
As recently as last month, the State of Michigan issued a cease and desist order prohibiting Ocwen Loan Servicing LLC from continued violations of state mortgage law. A press release from the state said Ocwen had a history of improper "servicing and handling of escrow accounts," trouble keeping accurate records, and problems with properly crediting payments.
Ocwen called the claims "unfounded," but added the company continues to work with state regulators.
Since 2008, the company has provided Michigan borrowers about 21,000 loan modifications, about 39% of which included principal forgiveness totaling about $317 million, Ocwen spokesman John Lovallo said in an email.
Since Ocwen began servicing Nickless's loan in 2011, she has made no mortgage payments, Lovallo said, yet Ocwen has continued to pay all taxes and insurance on her home, which is valued today at more than $275,000.
The company offered Nickless a modification in 2014, but she said the payments of about $1,650 a month would have been too high and due too soon.
Lovallo spoke to the State Journal about the loan after obtaining permission from Nickless.
Lovallo said Ocwen empathizes with any homeowner facing foreclosure, and "is committed to working with distressed borrowers to find the right solution to allow them to keep their homes."
Eric Schertzing, Ingham County treasurer, said state and non-profit mortgage manageability programs exist, but those programs can only do so much.
No program can help someone who doesn't have the cash flow to pay their mortgage, Schertzing said, and "if a situation isn't working, you have to be open to the mid-course corrections necessary," such as selling the house.
In September 2016, Nickless's home went to a foreclosure sale again and sold for about $113,000. The six-month redemption period passed with Nickless unable to pull together the needed funds.
Nickless's house currently is listed on the auction website hubzu.com for $176,000, and the family has until Monday to leave the home.
An uncertain future
Nickless's situation has similarities to other homeowners featured on ABC's "Extreme Makeover: Home Edition" between 2003 to 2012.
The spokesperson for the show's producers, Endemol USA, declined comment Wednesday when contacted by the State Journal. However, the company acknowledged in a Wall Street Journal article in 2010 there were issues with the larger-than-life homes and accompanying expenses, and said they had "scaled back."
Schroeder said, as the general contractor, Mayberry Homes worked on the Holt home's design with show producers who pushed a "certain size, certain scope."
"It had to be 'extreme,'" said Schroeder, who owns Mayberry Homes with her husband Bob.
Behind the scenes, she and her husband did everything they could to make the house manageable for Nickless, she said.
"It's unfortunate that it has gotten to this point," Schroeder said. "But I still say, you know what, when Lansing was asked to step up they did so with flying colors and I'm so proud of our community."
Nickless had big dreams to give back to the community through the home.
She dreamed of using the home as a camp for kids who'd lost a parent. She wanted to build a memorial garden for her husband and a blessing garden for all of the volunteers who helped to build her home.
But those dreams were swallowed by the ongoing threat of foreclosure.
"I feel bad because so many people came together to help us," she said. "I know I shouldn't feel like I let them down, but I do."
Nickless doesn't know where she's going, she said, or where she'll store a lifetime of memories. She wanted to share her story in the hopes that it would effect change for others struggling with house payments.
"It breaks my heart to know there are families going through this every day," she said.
Watch the "Extreme Makeover: Home Edition" episode featuring the Nickless family here: