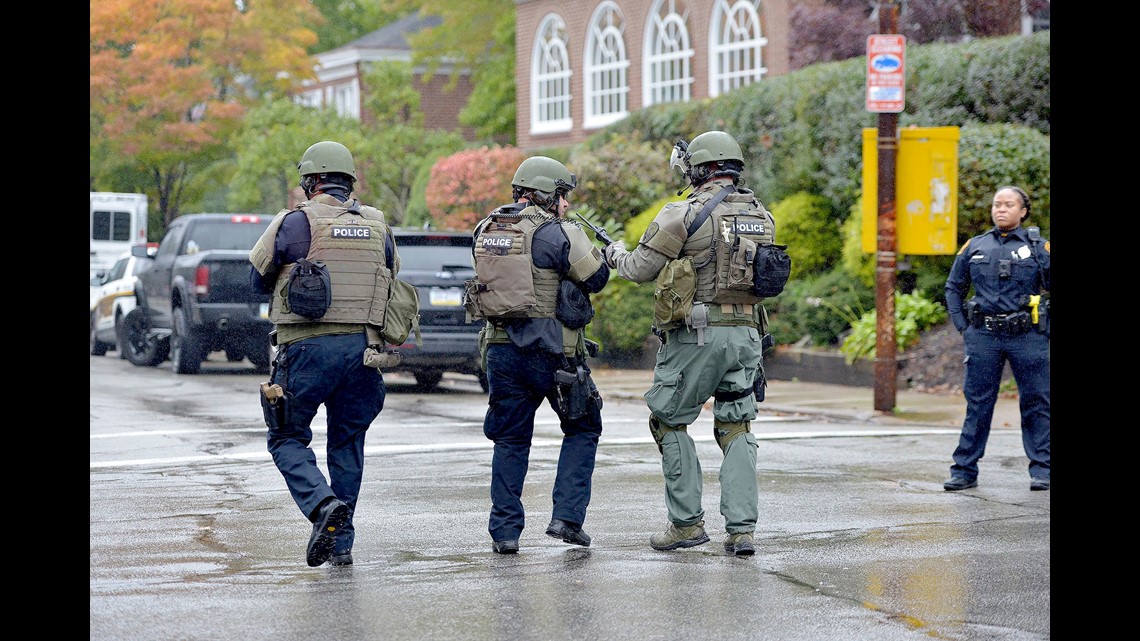 Police have a man in custody after an apparent shooting at a Pittsburgh synagogue Saturday that has left eight dead and multiple people injured, including three police officers.
Teams of armed police swarmed the Squirrel Hill neighborhood near downtown Pittsburgh just before 10 a.m. Saturday. Residents were urged to shelter in place as armed law enforcement agents canvassed the neighborhood.
Pittsburgh television station KDKA-TV and NBC reported that eight people have been killed and a number of others injured at Tree of Life synagogue. A male suspect has surrendered to police and three police officers were also reportedly shot, according to KDKA-TV.
The gunman walked into the building and yelled "All Jews must die!" then began shooting congregants, according to the news station.
Speaking to reporters at Andrews Air Force Base, President Donald Trump praised law enforcement's response in the shooting and called the suspect in custody a "madman" and a "whacko."
He said he would like to see more armed guards at synagogues and other places of worship and impose more death penalty sentences on convicted murderers.
"It's a terrible, terrible thing what's going on with hate in our country and, frankly, all over the world," Trump said. "Something has to be done."
At the scene, Pittsburgh Police Commander Jason Lando told reporters the shooting took place near the Tree of Life Synagogue in the Squirrel Hill neighborhood and they had "multiple casualties."
Squirrel Hill is a Jewish enclave near Carnegie Melon University. A little more than 50 percent of Greater Pittsburgh's Jewish community lives in or around the neighborhood, said Jeff Finkelstein, president and CEO of the Jewish Federation of Greater Pittsburgh.
"We are working the situation," Lando said. "It is imperative that everyone in the community surrounding the Tree of Life Synagogue stay in their houses and shelter in place. Do not come out of your homes right now. It is not safe."
Tree of Life immediate past president Michael Eisenberg told KDKA-TV that there were three congregations meeting simultaneously, probably totaling around 100 people, at the time of the shooting. They were gathered in the main part of the building, as well in the basement and in the rabbi study room, he said.
Eisenberg said he spoke with a maintenance man who hid in one of the bathrooms during the shooting and witnessed a shot congregant before fleeing through an exit.
He said he was on his way to service there when he noticed police swarming the streets.
"There were police cars everywhere, guns drawn, rifles," he told KDKA-TV. "It was surreal."
The synagogue was founded 150 years ago and offers members a "traditional Conservative service with a modern sense of family" and shabbat service on 9:45 a.m. Saturdays, according to the Tree of Life's website.
The congregation's president declined to comment to the Associated Press.
Vice President Mike Pence tweeted that he was monitoring reports of the shooting. "Praying for the fallen, the injured, all the families impacted, and our courageous first responders. God bless them all," Pence tweeted.