Widespread damage has been reported after severe storms made their way across East Texas early Thursday morning.
Make sure you have downloaded the free KYTX CBS19 app to stay updated on the latest storm-related news.
Kilgore News Herald
RELATED: WE'VE GOT YOU COVERED: Download the KYTX apps today
According to the City of Kilgore, thousands of homes were damaged after storms and straight-lined winds rolled through the area around 3:00 a.m.
Trees and limbs were blown over which caused damage to poles and lightning arrestors.
The Red Cross estimated around forty homes received major damage from the storm.
In addition to the extensive damage, several gas leaks were also reported.
Crews and emergency responders are working to clear trees and downed power lines from streets in the southern part of town.
Representatives for the City of Kilgore said that as of 3 p.m., SWEPCO reported 2,300 people were without power. Additional teams have been recruited to help restore power. They anticipate power will be almost fully restored by Saturday morning.
As of 3 p.m., two brush trucks were en route to help clear debris from streets.
The city is asking residents who cannot live in their homes because of severe damage to contact 866-505-4801.
Those who can still live in their homes but had trees fall onto the home should call KPD Dispatch at (903) 983-1559.
The City thanked volunteers from Henderson, Rusk County, New London, the Texas Baptist men, Team Rubicon and SBTC Disaster Relief who came to assist with relief efforts.
Upshur Rural Electric Cooperative reported that when the storm blew through close to 2:30 a.m., about 18,000 members were left without service. They attributed the damage to straight-line winds with speeds of more than 40 miles per hour.
The American Red Cross has mobilized units and set up a disaster relief station in Kilgore at St. Luke's United Methodist Church at 401 East Main Street.
The Red Cross encourages families that need help to reach out by calling (903) 581-7981.
The Red Cross is also asking if people can volunteer to reach out to them or other local organizations to assist in the clean-up.
KYTX CBS19 Staff
The Kilgore Police Department says the Kilgore College Parks Fitness Center will be open until 9 p.m. Thursday night for anyone that needs a shower or charge their electronic devices.
The center will reopen at 5 a.m. Friday to provide the same services.
STORM DAMAGE
Viewers have alerted CBS19 to damage in the following areas:
Tree through house - Leach Street (Kilgore)
Tree through house - Spruce Street (Kilgore)
Tree on truck - Emmons Street (Kilgore)
Large tree in yard - Leach Street (Kilgore)
Tree in roadway; downed power lines - Couch Street (Kilgore)
Tree in roadway - Commerce Street (Kilgore)
Trees down in neighborhood - County Line Road (Kilgore)
Tree down near apartment complex - Stone Road (Kilgore)
Trees in roadway - Bean Avenue (Kilgore)
Trees in roadway - Horseshoe Drive (Kilgore)
Trees in roadway - Intersection of Turner Street and Broadway Boulevard (Kilgore)
Power line in roadway - Intersection of Libbie Street and Bostick Drive (Tyler)
Trees uprooted - Florence Street (Kilgore)
Tree in yard - Horseshoe Drive (Kilgore)
Tree through house - South Tyler
Tree on business - Republic Ice House (Tyler)
Tree though house - Highland Drive (Kilgore)
Tree limbs through house - Beckley Street (Kilgore)
Power line in yard - Bean Avenue (Kilgore)
Tree across roadway - Garland Road (Kilgore)
Broken power pole - Upshur County
Tree in roadway - Florence Drive (Kilgore)
Tree in roadway - U.S. Highway 259 (Kilgore)
Two trees on house - Dudley Drive (Kilgore)
MARCH 14, 2019: Storm damage across East Texas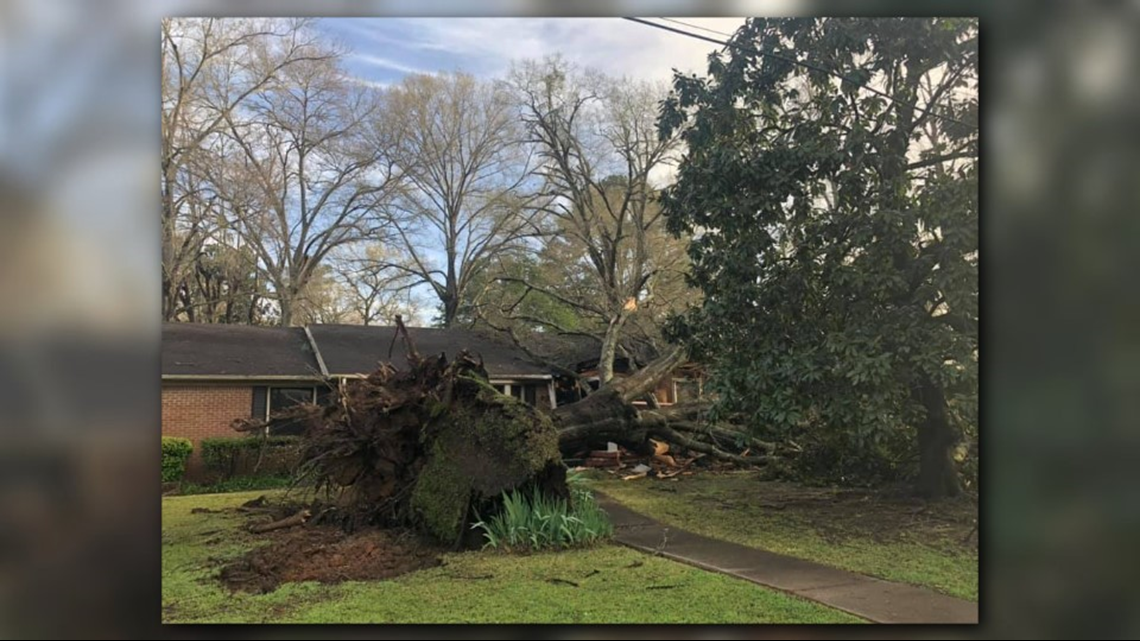 Mobile users, click here for a gallery featuring photos of storm damage across East Texas.
Kilgore News Herald
KYTX CBS19 Staff
ROAD CLOSURES
There Kilgore Police Department confirmed with CBS19 there are no longer any road closures in the area.
DOWNED POWER LINES
You should never approach, touch or attempt to move a downed power line or any object in contact with a power line.
KYTX CBS19 Staff
Many objects, including tree limbs, can conduct electricity. Contact with power lines can cause serious injury or even death.
Follow the steps below to ensure your safety around downed and/or damaged power lines:
Do not try to move a downed line because it may still be energized and could be potentially dangerous and even fatal
Maintain at least a 30 foot-distance from downed wires and anything they are in contact with, such as puddles of water and fences
Electricity can travel through the ground, so do not approach downed lines
Stay at least 30 feet away from any downed line
Contact 911 and your local electricity provider
Local emergency crews can block off the area until utility crews are able to de-energize or fix the line
Even if a downed line appears to be a phone or cable line, it may be a power line, or it may be touching a power line at some point, so treat all downed lines as if they are energized
Be aware that downed lines that are de-energized can become re-energized
POWER OUTAGES
The storm knocked out power for thousands of customers across East Texas. Power was restored for most of the area. However, more than 1,000 customers in Kilgore are still without power.
As of 12:45 a.m. Friday there were 1,419 customers affected by the power outage in Kilgore.
Do you have a weather report or pictures you would like to submit to the CBS19 Weather Team? Email them to news@cbs19.tv, or connect with us on social media through our Facebook and Twitter pages.
For the latest reports from the CBS19 Weather Team, click here.
We've got you covered!