MOULTON, Ala. — As their daughters warmed up on the field, Heather Mitchell chatted with a group of onlooking mothers.
It was her daughter, Paislee's, first season of softball and Heather had only one hope for her: learn to love the game. Heather expressed this to her fellow mothers saying she didn't want Paislee to get overwhelmed because she's so athletic.
"Another mom stopped me and said, 'She's not athletic. She's a girly girl!,'" Heather recalled.
Heather is the first to admit her daughter is the definition of "girly." She recalls having to purchase a locked makeup box when her daughter was a toddler because Paislee would sneak into her makeup to get dolled up.
While the girliness hasn't outgrown the now 8-year-old, she also loves helping her dad search the dirt for fishing worms prior to planning her outfit, hair and heels for the next school day.
Paislee, like any woman, has a variety of interests. Some leaning more feminine, others more masculine.
That's why the other mother's dismissal of Paislee's athleticism stuck with Heather.
"I kept thinking, 'Why does she have to choose between the two? Why can't she be both?'" Heather said.
The nagging thought drove Heather to express her frustration through her work, photography.
She brought Paislee to her photography studio, HMP Couture Imagery, with her fanciest dress and softball gear.
HMP Couture Imagery
Paislee posed in her cleats atop a mountain of softballs in a flowing apricot-colored dress and flower crown. Another photo showed Paislee with one cleat on and one high heel on.
It was all in a personal effort to show Paislee she could have a girly and sporty side.
When Heather posted the photos of her daughter on her personal Facebook page, requests started coming in. Despite an upcoming spring vacation, Heather fit a few clients into her studio to do similar shoots.
Mom's empowering photo shoot of daughter goes viral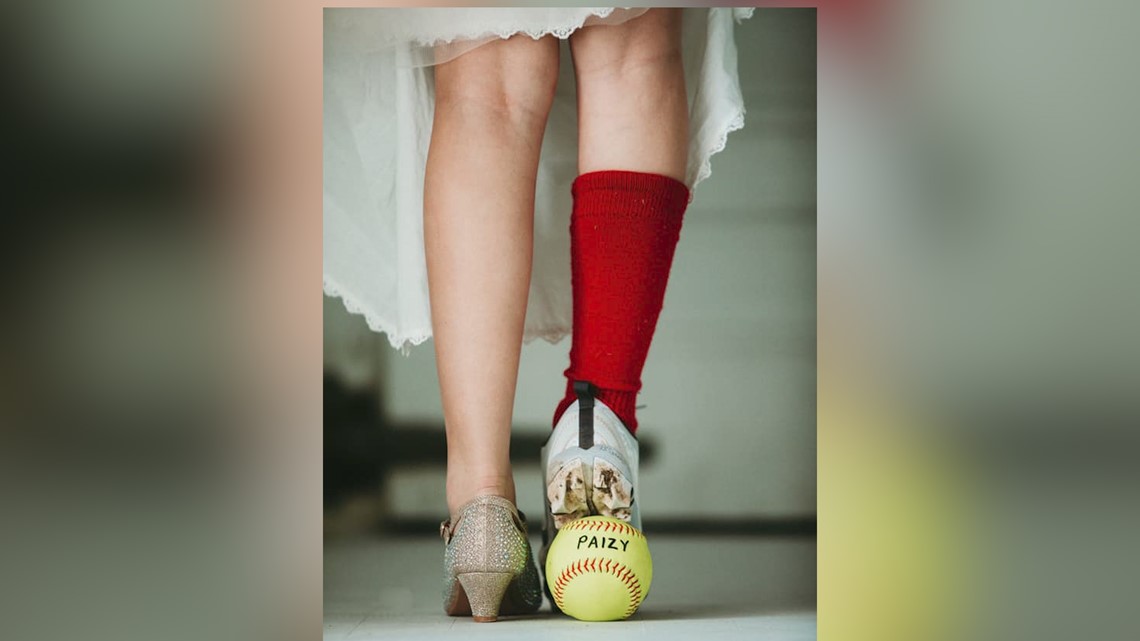 Before jet setting to Mexico, Heather decided to upload the photographs to her studio's Facebook page. Without thinking, she quickly captioned it, "Because you can do it all."
When she arrived in Mexico and checked her phone for the first time, she was shocked.
The photos went viral, with thousands of shares, likes and comments. Specifically, Heather noticed many parents tagging their spouse and commenting, "This will be our daughter."
"There's something that's striking [to people]," said Heather. "It doesn't matter what you've been told or what people expect out of you. If you can dream it, you can achieve it."
HMP Couture Imagery has had a staggering amount of requests for similar photos. Heather hopes to showcase all kinds of mixed passions and sides to her clients.
"I hope at the end of this we can empower a whole lot of different dreams," said Heather.