AUSTIN, Texas — We're tracking a chilly start to your Sunday but at least the wind is significantly calmer than what we experienced on Saturday!
The wind continues to calm down on Sunday afternoon as temperatures climb to around seasonable averages in the lower 60s. The warming trend continues heading into Dr. Martin Luther King Jr. Day as we hold onto sunny conditions with temperatures in the upper 60s. We expect temperatures to return to the lower to mid-70s by Tuesday.
A cold front is expected to move through the area on Wednesday, bringing a large cooldown for the back half of the week. An unsettled weather pattern later in the week will bring a slight chance for showers. Some forecast models have started indicating the possibility of wintry precipitation. There is a lot of uncertainty with this forecast at the moment, so we will continue to monitor the situation very closely over the coming days.
SUNDAY:
Seasonable and sunny. Northwest winds at 5 to 10 mph.
HIGH: 62°
SUNDAY NIGHT:
Clear and cold. West-northwest winds at 5 to 10 mph.
HIGH: 34°
MONDAY:
Pleasant and mostly sunny. Southeast winds at 5 to 10 mph.
HIGH: 68°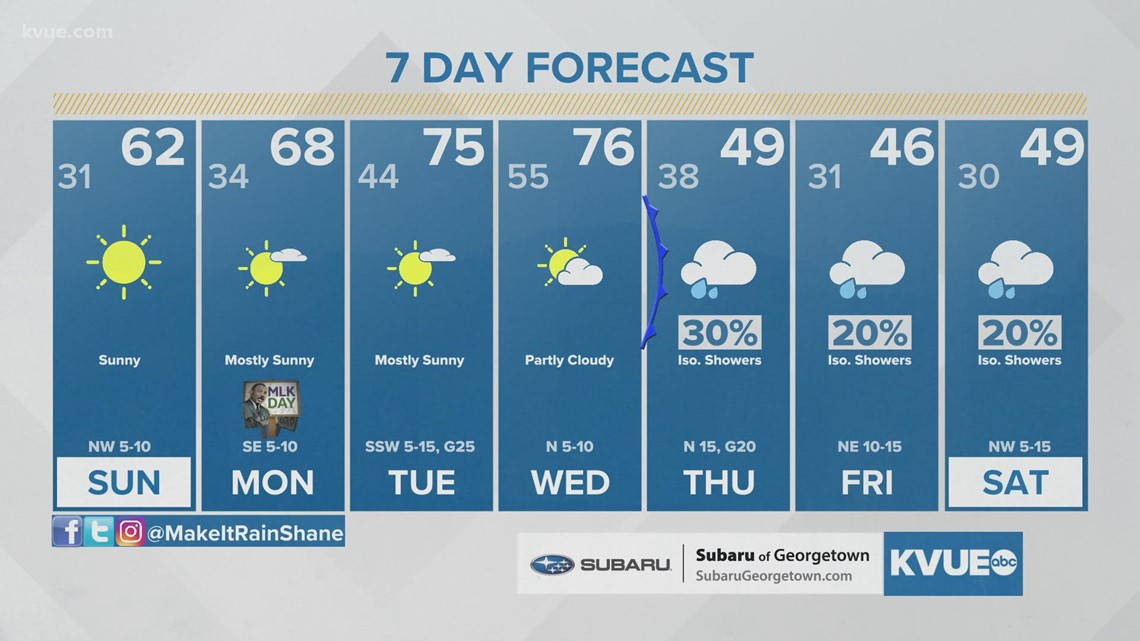 Check out the live radar for what you can expect the rest of the day and into Wednesday.