All of East Texas is under a Heat Advisory or Excessive Heat Warning for the remainder this weekend, with heat indices expected to climb near 115°. This will be the hottest weather of 2020 so far.
Take extra precautions if you work or spend time outside. When possible, reschedule activities for the early morning or later in the evening. Know the signs of heat exhaustion and heat stroke. Wear lightweight and loose fitting clothing when possible. To reduce risk during outdoor work, the Occupational Safety and Health Administration recommends scheduling frequent rest breaks in shaded or air conditioned environments. Anyone overcome by heat should be moved to a cool and shaded location. Heat stroke is an emergency! Call 911.
CBS19 Meteorologist Chandlor Jordan has some heat safety tips for you below.
The Storm Prediction Center has issued an outlook involving several of our counties. Any lingering storms that make it to our area could include frequent lightning, small hail and very gusty winds. Otherwise, expect partly cloudy skies and a light breeze out of the south. It will remain warm and muggy overnight, with lows falling into the upper 70s.
Mostly sunny skies continue with winds coming out of the southwest. Most of us are under an Excessive Heat Warning through 7 PM. Heat indices are expected to be between 110°-115° through the afternoon and early evening. Be sure to stay hydrated and find some shade if you are going to spend time outdoors.
More sunshine continues for the beginning of next week. High temps will stay in the upper 90s, with "feels like" temps in the mid to upper 100s.
Hot and muggy weather remains in the forecast with mostly sunny skies. High temps will remain in the mid to upper 90s, with "feels like" temps in the mid 100s.
We'll get a brief "cooldown" on Thursday, with high temps in the mid 90s. We'll keep the mostly sunny skies with winds coming in from the south.
Connect with Meteorologist Chandlor Jordan on social media:
Do you have a weather report or pictures you would like to submit to the CBS19 Weather team? You can email news@cbs19.tv and visit our Facebook or Twitter pages.
Keep up with the latest news, weather and sports by downloading the FREE CBS19 mobile app: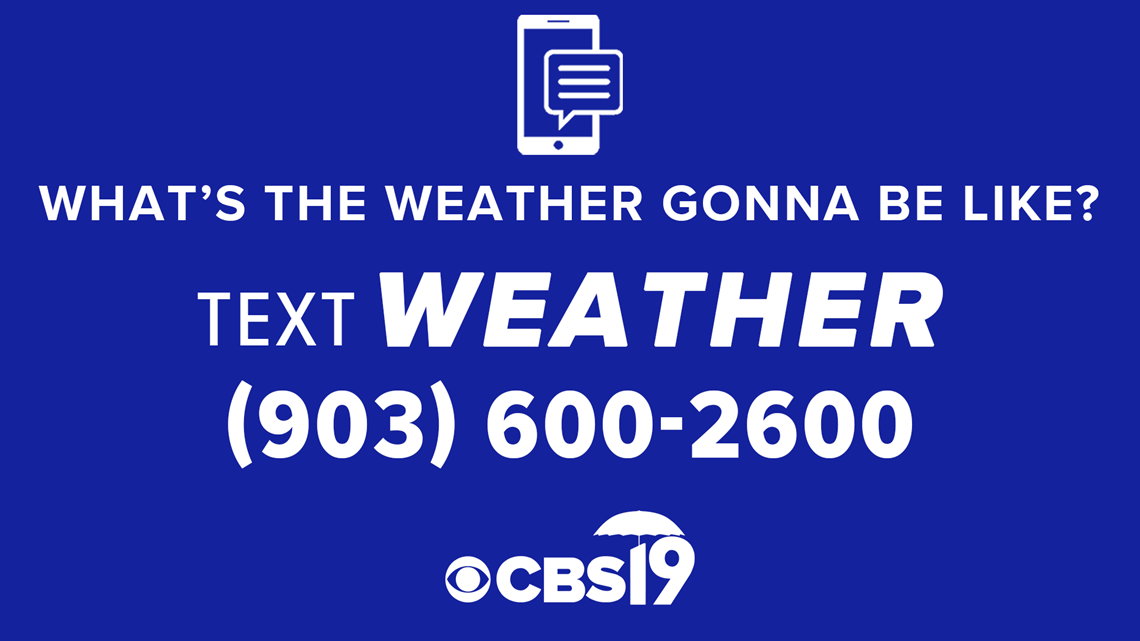 Make it a great day, East Texas. And don't worry, we've got you covered!