BEAUMONT, Texas — What's left of Beta is moving though Southeast Texas and heading to the east-northeast bringing showers throughout portions of the area.
At 10 a.m. the National Weather Service reported that the center of what's left of Beta was 60 miles west of Lake Charles. That puts it right over Beaumont but most of the rain has already passed.
A flash flood warning remains in effect until 12:45 p.m. for Newton County. Between one and four inches of rain has fallen this morning.
Beta is now bringing heavy rainfall across the lower Mississippi River valley the weather service said.
Beta made landfall overnight Monday near Port Lavaca, Texas, and moved slowly through the Houston area bringing heavy rain and street flooding for much of Tuesday.
Despite Beta no longer being a tropical storm, the flood threat remains for Southeast Texas through Wednesday night.
There are Flash Flood Watches currently in effect across Southeast Texas and Southern Louisiana.
The storm was about 60 miles west of Lake Charles at 10 a.m. according to the National Weather Service.
Key Takeaways
What's left of Beta could bring heavy rain into Southeast Texas through mid-morning Wednesday
12News StormTrackers expect the worst of the weather to be gone by Wednesday afternoon
Some areas could still experience flash flooding due to Beta's bands
Timing of the storm
The National Hurricane Center is referring to the storm as 'Post-Tropical Cyclone Beta' as its remnants move through Southeast Texas.
It's now moving east-northeast at about 9 mph as of 10 a.m. according to the National Weather Service. This motion is expected to shift more toward the northeast in the next 48 hours.
Its max winds are staying around 30 mph with higher gusts.
Continued slow weakening is forecast for Beta's over the next couple of days.
The possible heavy rainfall for Southeast Texas is expected to be over by Wednesday afternoon.
The National Hurricane Center gave its final update on Beta Tuesday afternoon at 4 p.m. CDT. Future updates are being provided by the National Weather Service's Weather Prediction Center.
Post Tropical Cyclone Beta path and forecast cone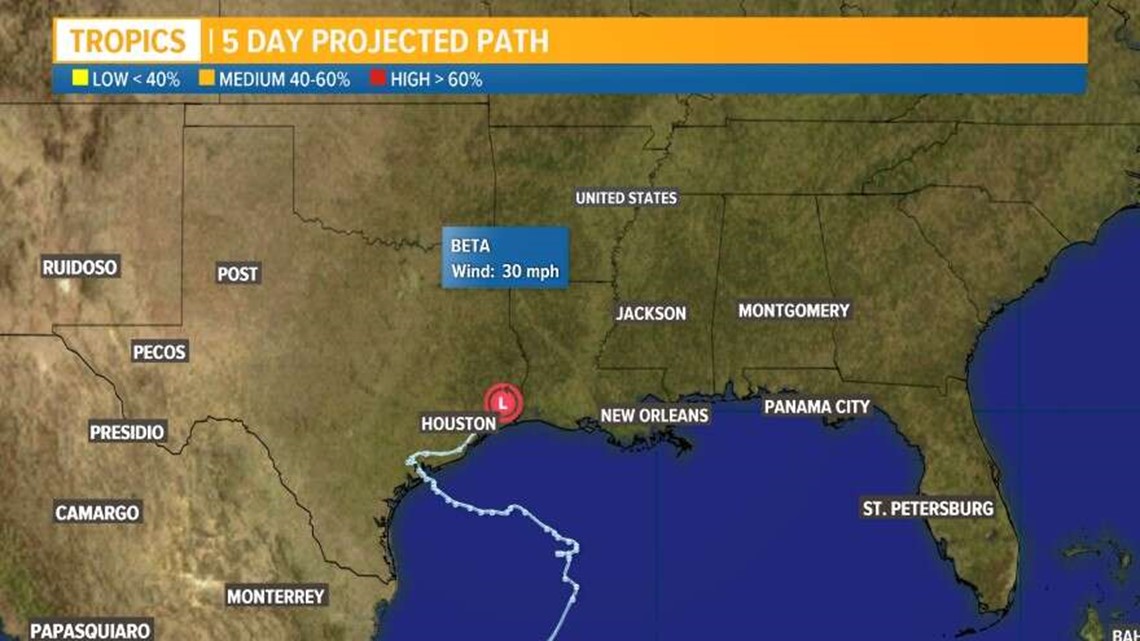 Post Tropical Cyclone Beta models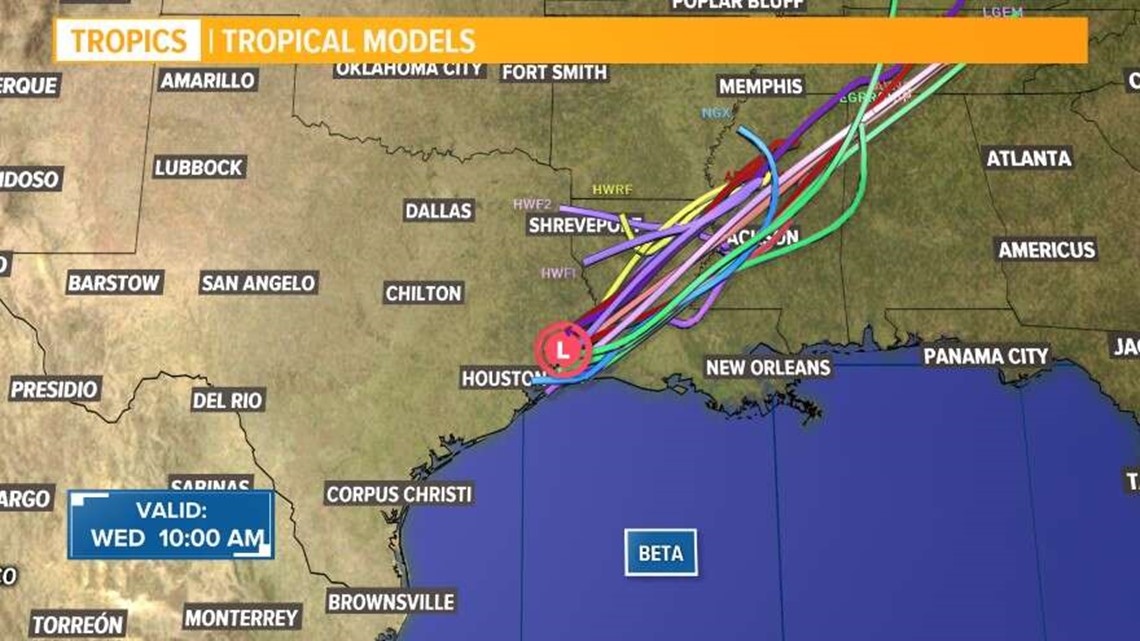 10 A.M. Update from the National Weather Service
At 1000 AM CDT (1500 UTC), the center of Post-Tropical Cyclone Beta was located near latitude 30.2 North, longitude 94.2 West. The post-tropical cyclone is moving toward the east-northeast near 9 mph and this motion is expected to continue through the day.

Maximum sustained winds are near 30 mph (45 km/h) with higher gusts. Continued slow weakening is forecast over the next few days.

The estimated minimum central pressure is 1007 mb (29.74 inches).
Post Tropical Cyclone Beta Rain Outlook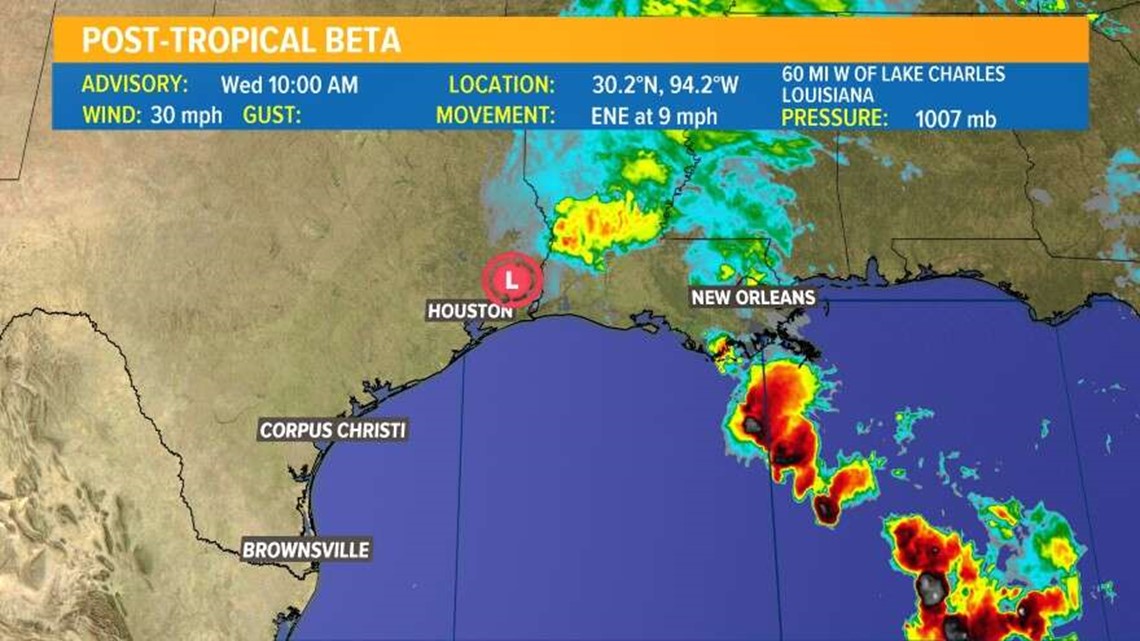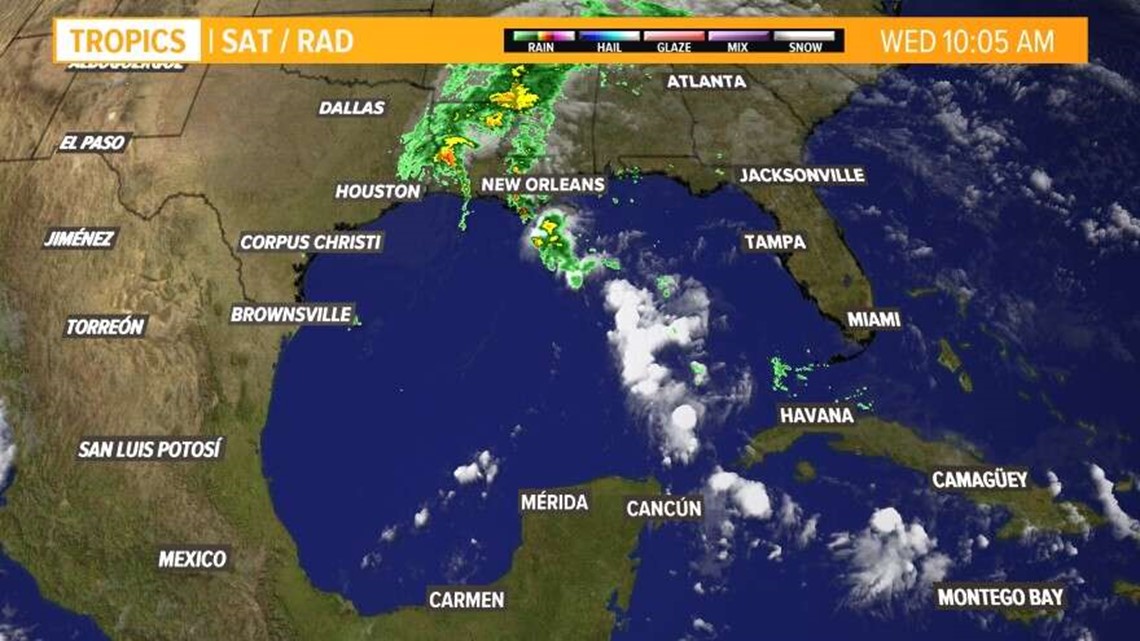 Tracking Post Tropical Cyclone Beta
Be prepared if a storm comes our way
Make a home inventory
Have a current copy of your declarations page that has your policy number and your agent's number
Review your policy with your insurance agent to determine if you have adequate coverage
Repair loose boards, shingles, shutters and downspouts to prevent them from becoming an issue in high winds or torrential rain
Have an evacuation plan, and include plans for your pets
Make sure your emergency equipment is in working order, including a battery-powered radio, flashlights and extra batteries. Also, make sure to gather all medicine, replenish your first-aid kit and stock a week's worth of non-perishable food and water
Charge your cell phone and fill your car with gas
Program all emergency phone numbers
If you are advised to evacuate, leave as soon as possible. Retain all related receipts - they may be considered in your claim. If you aren't in a recommended evacuation and you plant to stay home, stay informed by listening to weather alerts
Keep windows and doors closed at all time, and, if possible, board them up with wooden or metal shutters
Stay away from the windows and in the center of the room, or, stay in an interior room
Avoid flood water, as it may be electrically charged from downed power lines
Check on family members and friends
Check to be sure your family members are safe
If you did evacuate, wait for official notice that it is safe to re-enter your neighborhood and your house
Document damaged property, and take photos and videos. Don't dispose of any damaged items without approval
Keep a record of any temporary repairs or expenses to prevent further damage to your property
Also on 12NewsNow.com...