TYLER, Texas — A lot of pieces are coming together Tuesday that could lead to a significant severe weather day across parts of Texas, including East Texas. I will try and cover all those moving parts in this weather update and hopefully get your prepared.
The first thing to look at is the overall severe weather outlook for Tuesday. A third of the nation is under some kind of severe weather outlook for Tuesday.
This includes half of Texas, which is either in a slight or enhanced risk of severe weather. This means scattered to numerous severe thunderstorms are possible with everything from damaging winds to very large hail to tornadoes possible.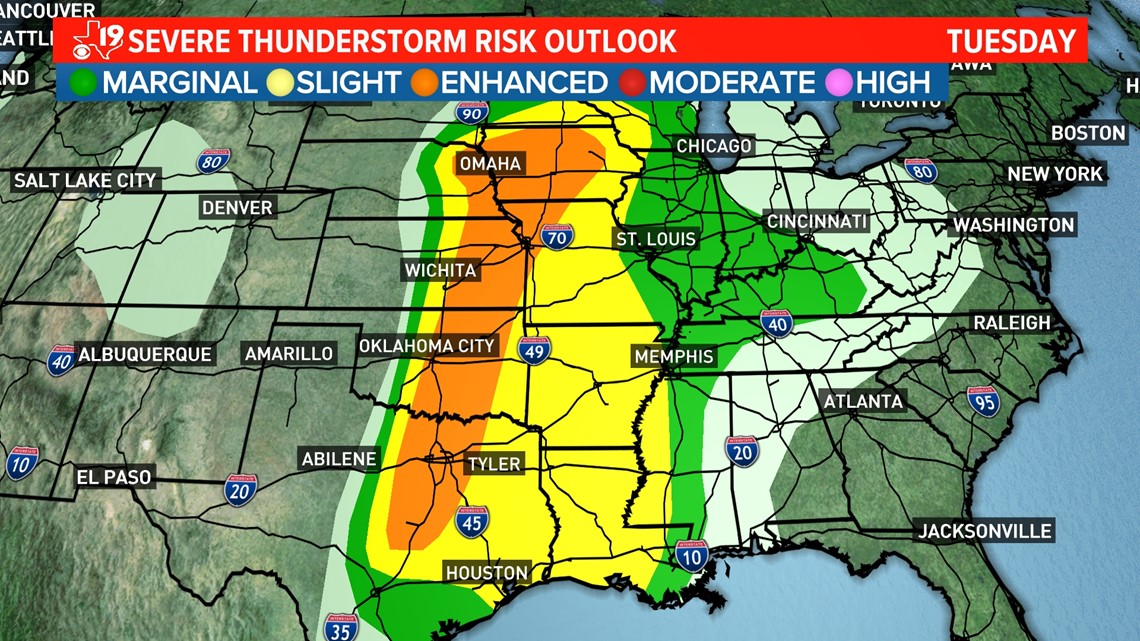 Let's talk about why there is a chance of severe weather. There is a large, slow-moving area of low pressure around 18,000 feet moving into the inter-mountain west Tuesday. Meantime, Tuesday afternoon, a smaller disturbance in the middle of the atmosphere, will move out of Mexico and cross Texas, making its way to Arkansas by Tuesday evening. At the same time, at the surface, a very warm and very humid air mass will be in place over the eastern half of Texas while much drier air will be moving in from West Texas. Here's a look at that classic dryline set up for Tuesday afternoon.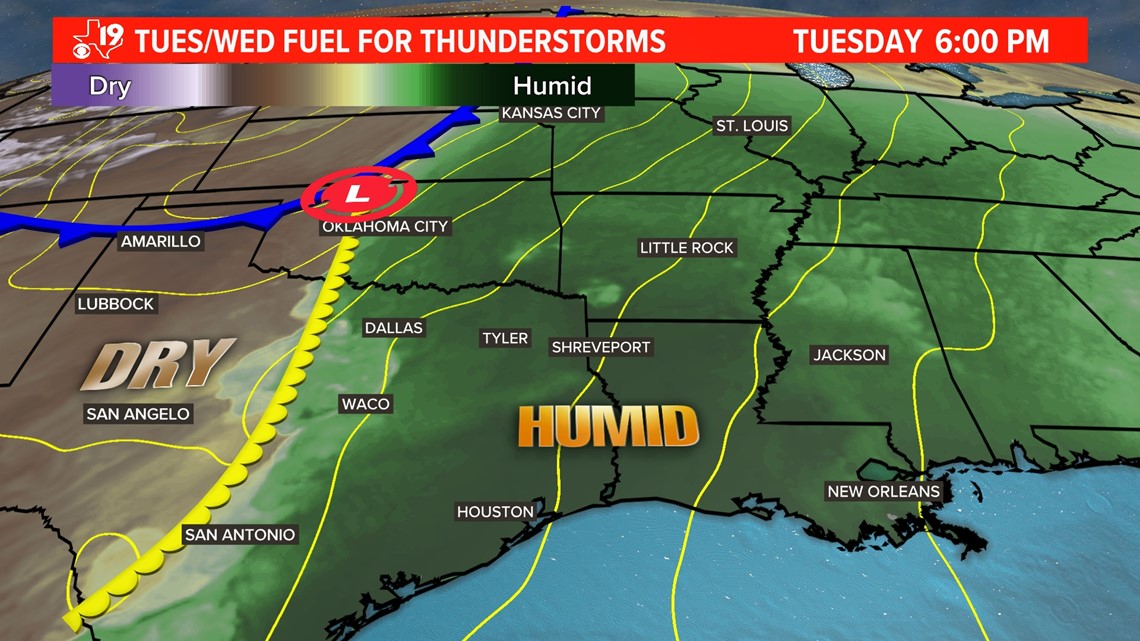 This humidity is the fuel for thunderstorms while the sunshine and temperatures in the 80s will provide the potential energy for explosive development of severe weather. Severe thunderstorms may form early Tuesday afternoon as the drier air acts to lift the warmer, buoyant air. Once the air is moving upward, thunderstorms with strong updrafts will rapidly grow. These updrafts will lead to hail forming and Tuesday afternoon into Tuesday evening, the hail could become very large. The Storm Prediction Center shows an enhanced area of large hail in Central Texas. The hatched area on the graphic below means the hail size could be significant.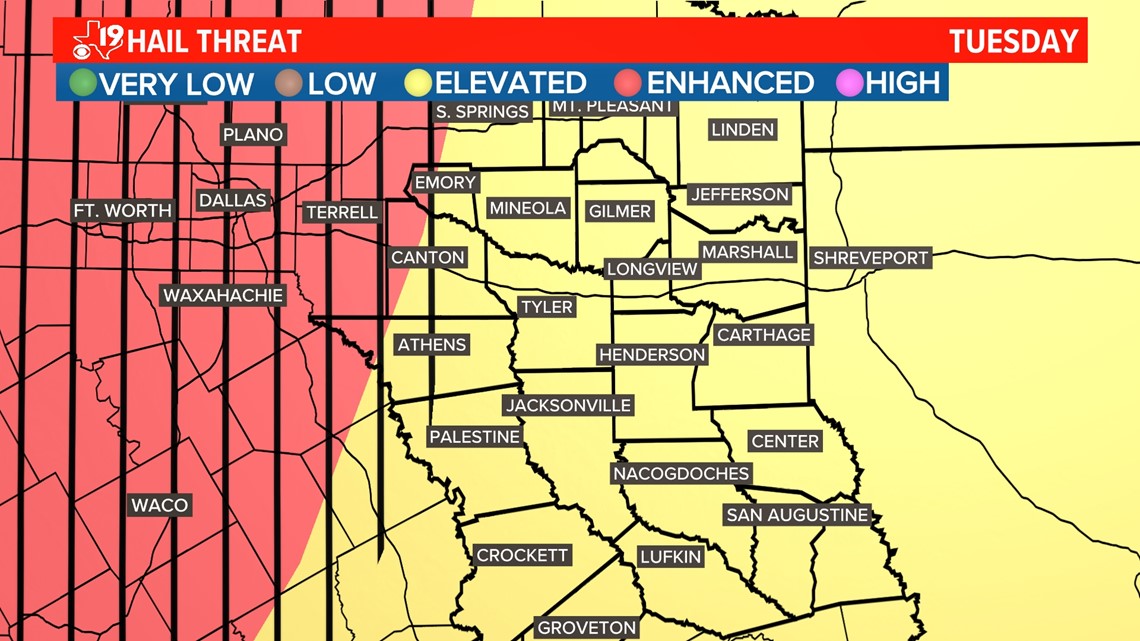 Significant hail is considered to be large than limes or hen eggs. Again, that's possible anywhere in and near the hatched area on the graphic above which includes the Dallas and Fort-Worth metroplex. But we must watch these cells carefully as powerful thunderstorms could form into clusters and eventually become a line of thunderstorms with damaging wind gusts. This next graphic shows the wind speeds at 5,000 feet off the surface.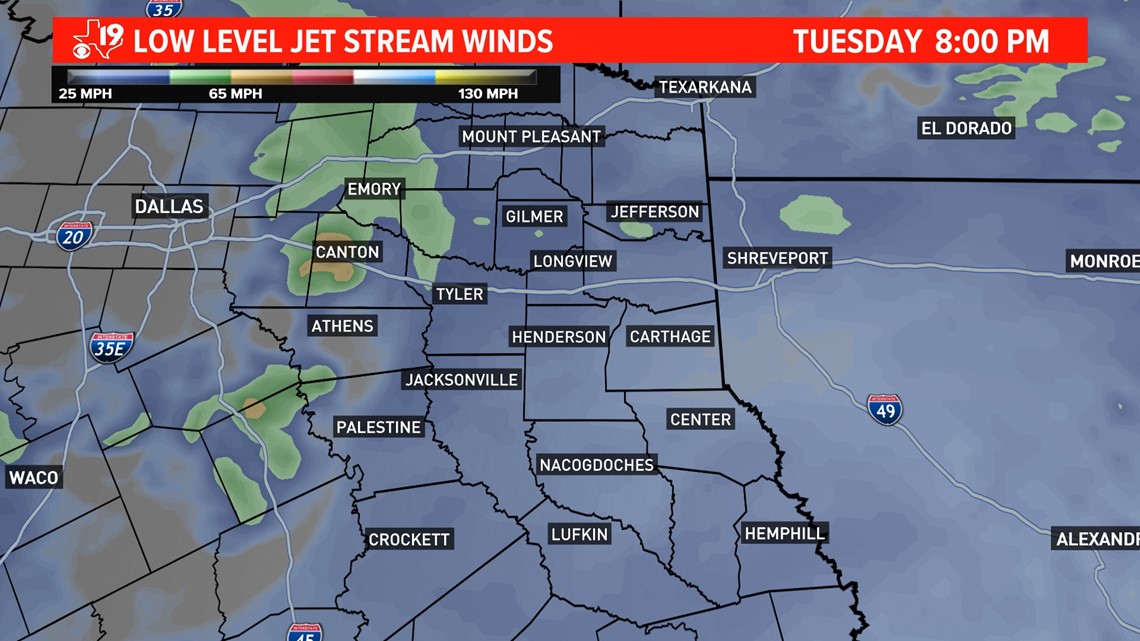 If you look carefully at the legend on the above graphic and compare that with the color contours of the forecasted winds, you will see that at around 8PM Tuesday, low level jet stream winds could gust to stronger than 65 miles per hour. This jet stream wind speed would be sufficient for a quick spin up tornado or these jet stream winds could descend to the surface causing damaging wind gusts in excess of 60mph. Will these winds continue to be this strong into East Texas? Modeling data differs and our in-house computer model shows a weakening bow echo moving into East Texas late Tuesday evening.
The bottom-line here is 1) Make sure you have two ways to get warnings. 2) Know where you are sheltering, 3) Evacuate mobile homes, R-Vs, and campers before the storm strikes, and 4) Remember severe thunderstorm winds can be just as strong as EF-1 tornadoes, so take severe thunderstorm warnings just as serious as a tornado warning.
Keep checking in with the CBS 19 Weather Team because we are putting East Texas first.