TARAWA, REPUBLIC OF KIRIBATI (WUSA9) — He lay in repose under the ravages of war. A United States Navy sailor remained in a mass grave for 70 years, forgotten, far from the fields of Arlington National Cemetery.
A green poncho clung to his battered bones, as he rested near fallen Marines as young as 17. The men defeated the Japanese on a sandbar later known as, "one square mile of hell."
They died before Thanksgiving 1943, more than a year before the world would see the iconic flag over Iwo Jima.
RELATED: WUSA9's full investigation and follow-up reports
The body of Howard P. Brisbane lay underneath the sands of Tarawa, a remote Pacific atoll more than 7,000 miles from Arlington. Brisbane was 21 years old, a Navy medic destined to save U.S. Marines on the faraway beaches.
PHOTOS: American WWII heroes forgotten in Pacific graves
Navy Sailor Howard Brisbane, killed in action Nov. 20, 1943. Photo: United States Navy.
1/37
Remains of Howard Brisbane, excavated in a Pacific grave.
2/37
Shipwrecks on the Pacific atoll of Tarawa. Brisbane was killed in action during the Battle of Tarawa, November 20, 1943.
3/37
Tarawa excavation site in 2017. 452 U.S. troops are still missing on Tarawa today.
4/37
Howard Brisbane's remains return to BWI Airport, June 2017.
5/37
Tarawa remains of Marine 1st Lt. Alexander Bonnyman, Jr., found near Howard Brisbane.
6/37
After he was buried on Tarawa in 1943, Howard Brisbane was recovered and re-interred at Arlington National Cemetery, June 9, 2017.
7/37
Wing of an American B-24 bomber at low tide.
8/37
Wreckage of Japanese artillery from World War II.
9/37
Non-profit charity History Flight excavates U.S. Marines.
10/37
Chickens and debris near American WWII burial site.
11/37
Photos of Americans missing in action on Tarawa. Helmets and supplies from WWII line the table.
12/37
Tarp covering American burial trench, excavated 73 years after Battle of Tarawa.
13/37
Tarawa resident works to excavate U.S. Marine.
14/37
Barrels and debris near graves of U.S. service members on Tarawa.
15/37
Trash and debris near graves of U.S. troops on Tarawa.
16/37
Pig pen and shantytown feet from where U.S. service members are buried.
17/37
Tarawa excavation in June 2017. Team prepares to unearth a U.S. Marine.
18/37
Tarawa excavation in June 2017. Anthropologist with the non-profit charity, History Flight, found +100 U.S. service members on the island.
19/37
Aerial photographs from 1944 show Tarawa cemetery cleared to expand airfield infrastructure. Ground penetrating radar (left) indicates human remains underground. Green markers (right) indicate bodies found.
20/37
Red circle indicates where Brisbane was buried, an area Americans paved over by this March 1944 photograph. Yellow circles indicate marked burial plots.
21/37
Brisbane's gravesite today. It was turned into a parking lot by Americans days after his death.
22/37
Tarawa Cemetery where Howard Brisbane's family thought he was buried. Area of his grave marker circled in red.
23/37
Victory after Battle of Tarawa.
24/37
During the Battle of Tarawa, 961 Americans were killed over three days.
25/37
American boats approach Tarawa.
26/37
The Battle of Tarawa, November 20, 1943.
27/37
Location of Tarawa in the Pacific Ocean, 7,000 miles from Washington, D.C.
28/37
Skull of Marine 1st Lt. Alexander Bonnyman, Jr.
29/37
A cross and plaque on Tarawa memorializing the dead. Neither the cross nor plaque exists today.
30/37
A cemetery on the beaches of Tarawa, no longer in existence today.
31/37
Bronze plaque that once memorialized Howard Brisbane (right, second from above) on Tarawa. The plaque has been lost to history.
32/37
Navy Sailor Howard Brisbane's grave today.
33/37
Photo and diagram of Howard Brisbane's skeleton recovered from the sands of Tarawa.
34/37
Japanese snipers killed scores of Americans on Tarawa in November 1943. Navy Sailor Howard Brisbane's skull, with fatal bullet wound.
35/37
Pieces of a gas mask found with Howard Brisbane's skeleton on Tarawa.
36/37
Defense Department memo from 1949 declaring Howard Brisbane's remains were non-recoverable. An American non-profit found Brisbane's remains on Tarawa in 2015.
37/37
He waded through water on the first day of fighting, as battalions' boats came under relentless Japanese fire.
In Defense Department photographs never released to the public, what caused his end is clear – a single sniper's bullet to the head. The image confirms stories from his family since the telegram came before Christmas, nearly 74 years ago.
But Brisbane's living relatives, including a niece who remembers the telegram at her front door, always thought he was buried in an idyllic setting – a paradise saved from the Japanese Navy.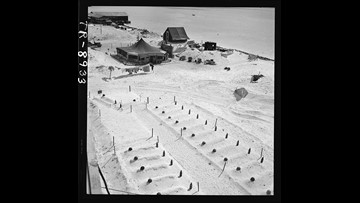 Department of the Navy, Naval Photographic Center
They saw black and white photographs showing landscapes rivaling the poignant beauty of Normandy. White crosses near white beaches, palm trees and a plaque, forever commemorating the sacrifices of men who marched with the Second United States Marine Division.
But only days after his death, Brisbane's gravesite was gone.
There was no cross in the ground above his body.
There was dust.
His cemetery became a gravel road and parking lot by the spring of 1944, first paved by Americans.
After the Battle of Tarawa ended, the survivors dug trenches. They placed the dead side-by-side, burying them quickly. There was no time to fly men back to Arlington. A war needed to be won.
Government documents show Brisbane's grave was forgotten for decades, his remains declared "non-recoverable" by a defense review board in 1949. But his skeleton, possessions, even the leather boots on his feet, were still there.
In a WUSA9 investigation extending seven months, interviews and records show the new government agency in charge of recovering America's war dead never informed the Brisbane Family of the full circumstances surrounding his resting place on Tarawa.
Defense Department liaisons to the family never mentioned that a private citizen used his own money to first find Brisbane's body, rather than D.O.D. teams leading the effort.
NOTE: Click through the above timeline for dates on the Battle of Tarawa and the Brisbane Family's journey to the truth
Interviews with the U.S. Government Accountability Office reveal the arm of the Pentagon tasked with finding lost graves still lacks personnel files for thousands of service members who are missing in action.
Data from the Pentagon show an annual goal of identifying the remains of 200 Americans was only met for the first time, one month ago. The findings from the new information requests have not been previously reported.
Defense personnel identified the remains of 201 troops this year, exceeding the goal by one service member.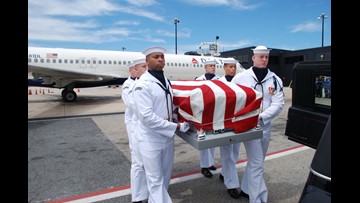 Katie Rasdorf
Brisbane was one of nearly 73,000 Americans who are still missing from World War II. The staggering number of men who never returned is the rough equivalent of one in five graves missing from Arlington National Cemetery.
Both successes and long-standing inefficiencies colored the Navy corpsman's return to Arlington in 2017, when his family saw his final burial among the dignified rows of marble graves. His homecoming was delayed for decades, with hundreds of men on Tarawa still below the surface of the sand.
Brisbane's re-internment in American soil is one of the latest cases to shed light on a promise still in progress – the effort to bring thousands back to America in the face of uncertain funding and fading memories.