TEXAS, USA — After the storms moved overnight, it turned out to be a pretty nice day on Wednesday here in East Texas. Thanksgiving should be a fantastic day as well and take advantage of it because cloudy and rainy weather will be moving on in for Black Friday and the weekend. Catch the latest details and full weather forecast below!
Thanks to clear skies and calm winds, temperatures are going to drop quickly after sunset. Most of us will fall into the low-40s overnight, with a few of us likely reaching the upper-30s.
Thanksgiving looks like it'll be a great day as well, with a mostly sunny sky expected at the start of the day. High temperatures will reach the low-70s. Cloud cover will start to increase overnight as another disturbance heads towards our area.

Showers and storms are expected to return on Friday, with the best chance of seeing any rainfall being in Deep East Texas. It's still too early to tell if any of the storms might be severe, but we'll be keeping an eye on things as the week progresses. High temperatures will reach the upper-60s before the arrival of the thick clouds and rain showers.
Scattered showers and storms will stick around all day on Saturday. Saturday looks like the best chance of rainfall for all of East Texas. Otherwise, it'll be overcast, with high temperatures only reaching the upper-50s.
Rain chances will linger through the morning on Sunday. Once the rain clears out, we'll see cloud cover decrease through the remainder of the day. High temperatures will only reach the mid to upper-50s on Sunday.
Connect with Chief Meteorologist Joel Barnes on social media:
Do you have a weather report or pictures you would like to submit to the CBS19 Weather team? You can email news@cbs19.tv and visit our Facebook or Twitter pages.
Keep up with the latest news, weather and sports by downloading the FREE CBS19 mobile app: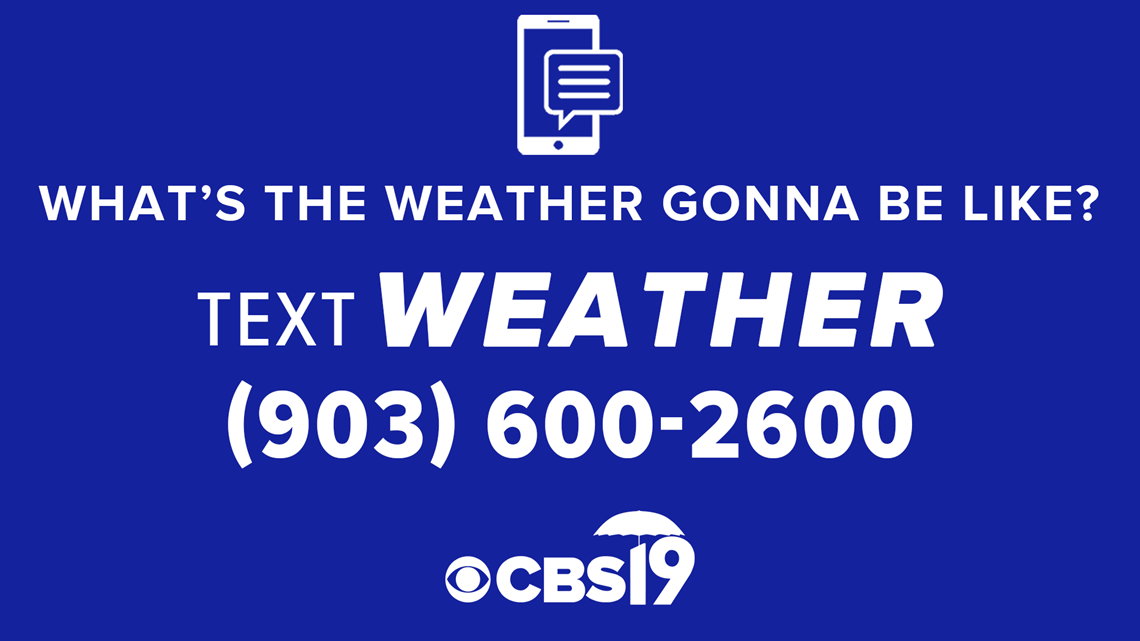 Make it a great day, East Texas. And don't worry, we've got you covered!