Where is JFK's lectern from his famed moon speech? Not at Space Center Houston, historian says
A lectern, on display for more than 30 years at Space Center Houston, is not the actual one President Kennedy used in one of his famous speeches, historian shows.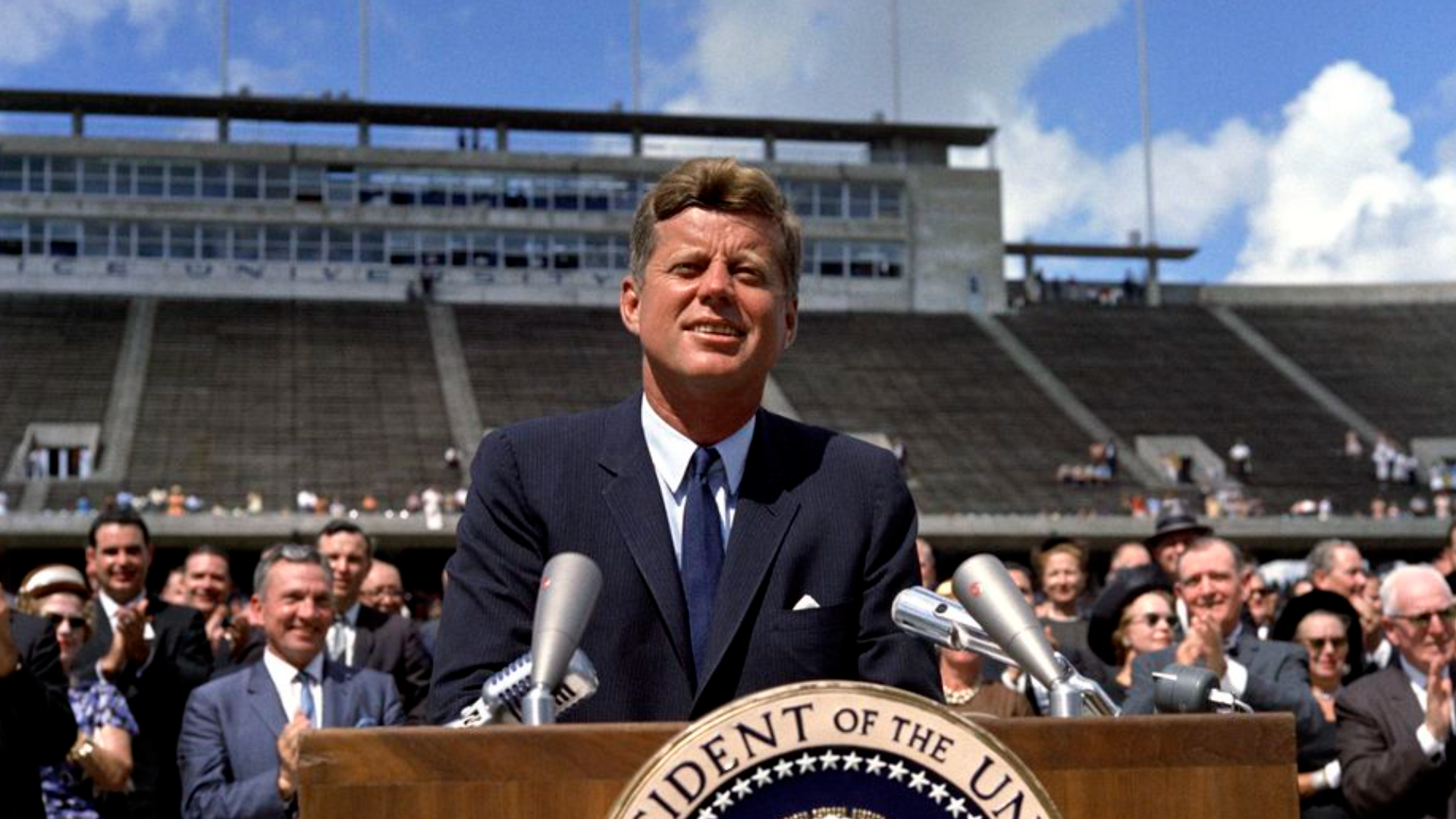 A celebrated lectern -- on display at Space Center Houston for more than 30 years and said to be the one from which President John F. Kennedy delivered his famous "moon shot" speech in 1962 -- is a fake artifact, a historian told WFAA.
"So, this has gone on now for 30 years," said Farris Rookstool, III, a Dallas-based historian who specializes in the Kennedy administration. "No one has questioned it."
On Sept. 12, 1962, in front of 40,000 people on the football field at Rice University, President Kennedy delivered the address that eventually inspired the Apollo moon missions.
"We choose to go to the moon in this decade and do the other things, not because they are easy, but because they are hard," Kennedy famously stated in his signature Boston accent.
"This [address] is considered, and in my opinion is, Kennedy's greatest speech of all time," Rookstool said. "This put Houston on the map."

But thirty years after JFK spoke those words, Rice University suddenly claimed to have the IBM lectern that the president used that day. It was sitting backstage at the campus theater in Hamman Hall during the 1990s, the university said.
"They just said 'ah-ha, that's our lectern there in 1962 and have just perpetuated this myth as urban legend for all this time," said Rookstool, after having forensically inspected it.
In 1993, Rice University drew up a letter and donated its lectern to Space Center Houston, where it enjoys a permanent museum display on stage in the Destiny Theater. It's also often trotted out and used for VIPs and dignitaries.
Key differences between the lecterns
:
The Rice lectern does look like the one President Kennedy used, but Rookstool said the differences are distinctive.
"The fact that there is this darkened line," Rookstool explained, pointing to a dark line circling the lectern, just below the presidential seal. "You can see it here, as well, and here, as well. And that's because the lectern is not seated flush."
"It was [left] slightly askew in the setup procedure," Rookstool continued, "because they actually take it apart when they're transporting it on a big C-130 aircraft."
The top and the bottom of the presidential lectern are different pieces. It made it easier for White House staffers to take apart and transport.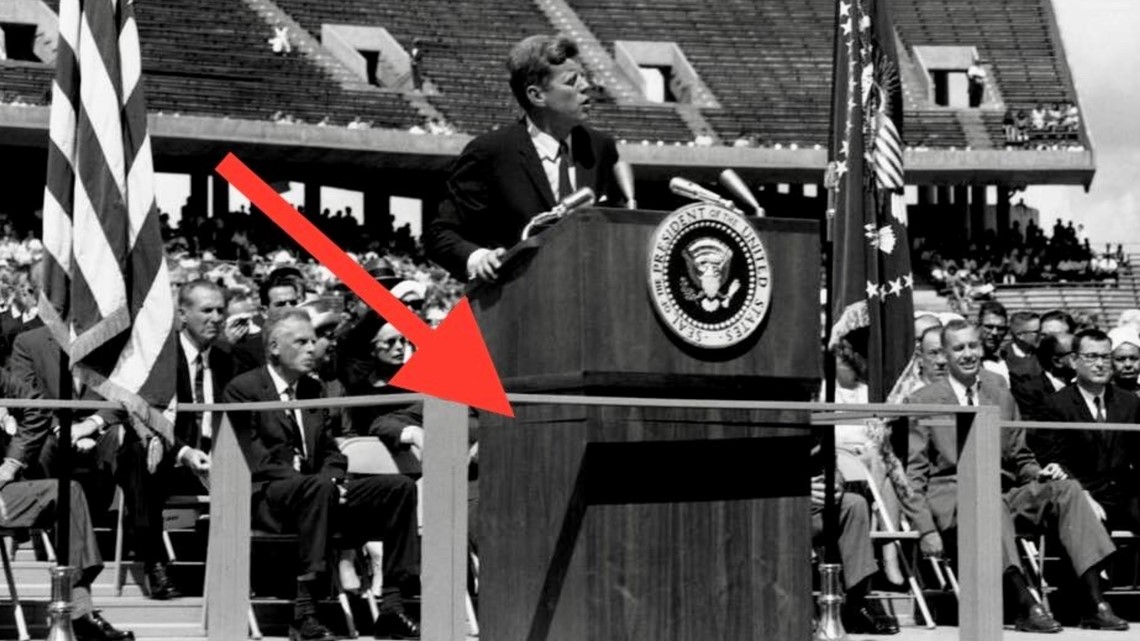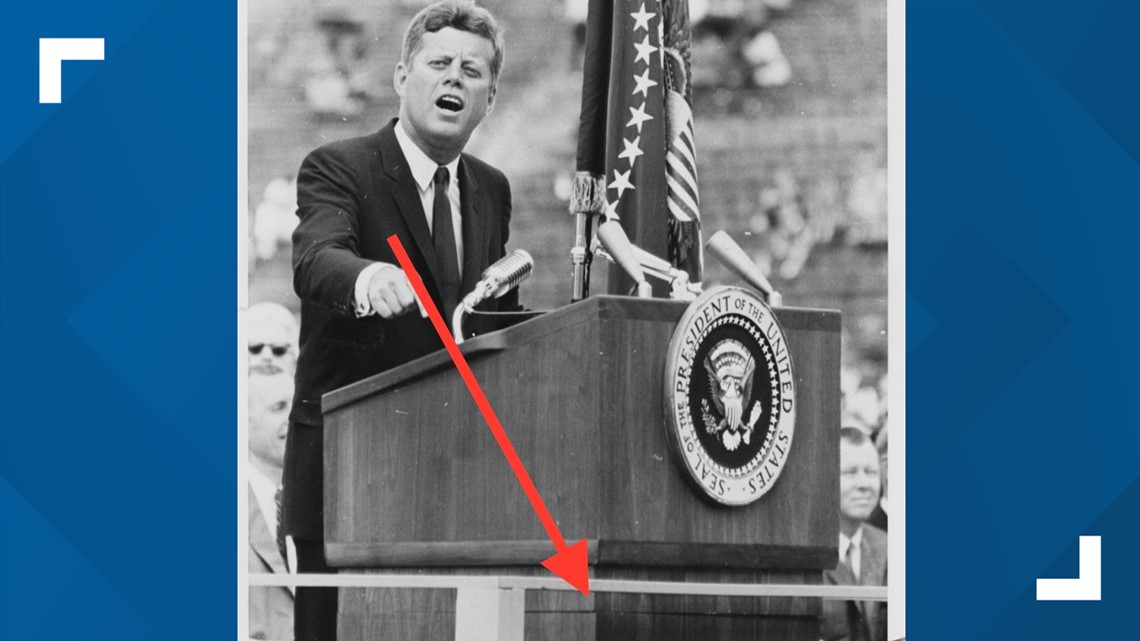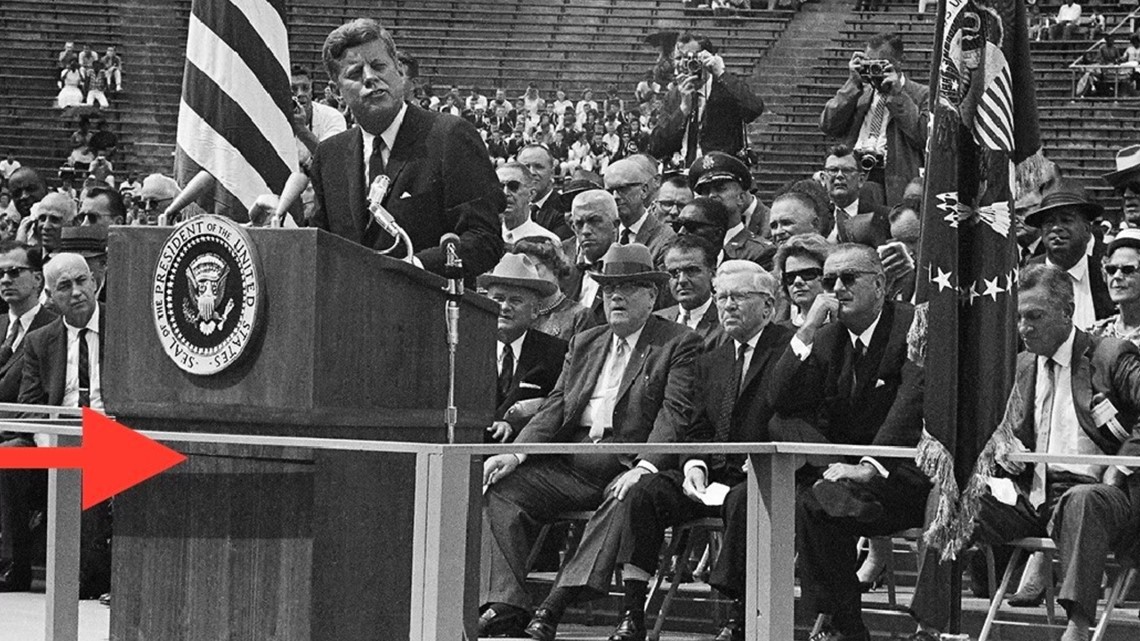 But Rice's lectern does not have such a cut, nor does it show any signs that its walnut veneer was ever repaired.
"This would be the fingerprint. Think of this as the fingerprint," Rookstool said. "There is no repair mark on [Rice's lectern]. There's no saw cut on here. And again, having inspected Rice's lectern, it's not bullet proof."
In addition, the Rice lectern does not have any type of inventory control tag indicating it once belonged to the U.S. government.
Rookstool has authenticated Kennedy artifacts for years, including the sniper's perch from which Lee Harvey Oswald fired the fatal shots at Kennedy; the license plates on the presidential limousine that day in Dallas; items belonging to the notorious 1930s gangsters Bonnie and Clyde; and the Montgomery, Ala. city bus on which Rosa Parks made history on in 1955 by refusing to relinquish her seat to a white passenger.
Rookstool said he is puzzled why no one ever took a closer look at the lectern until now.
The National Archives has dozens of images showing Kennedy behind the same-style IBM lectern that he used at Rice. The saw cut is clearly visible in each of photograph.
"The fact that it's not bullet proof and it does not have a saw cut. You don't have to be a graduate of Rice University to figure this out," Rookstool explained.
Rice's response
:
What might be most remarkable about this revelation is that Rice University admitted that it never had its lectern forensically authenticated before declaring it an artifact. The university had no proof and no provenance when it donated the item to Space Center House in 1992. It simply provided a description of what it thought to be the lectern's significance on university letterhead, and proudly donated it.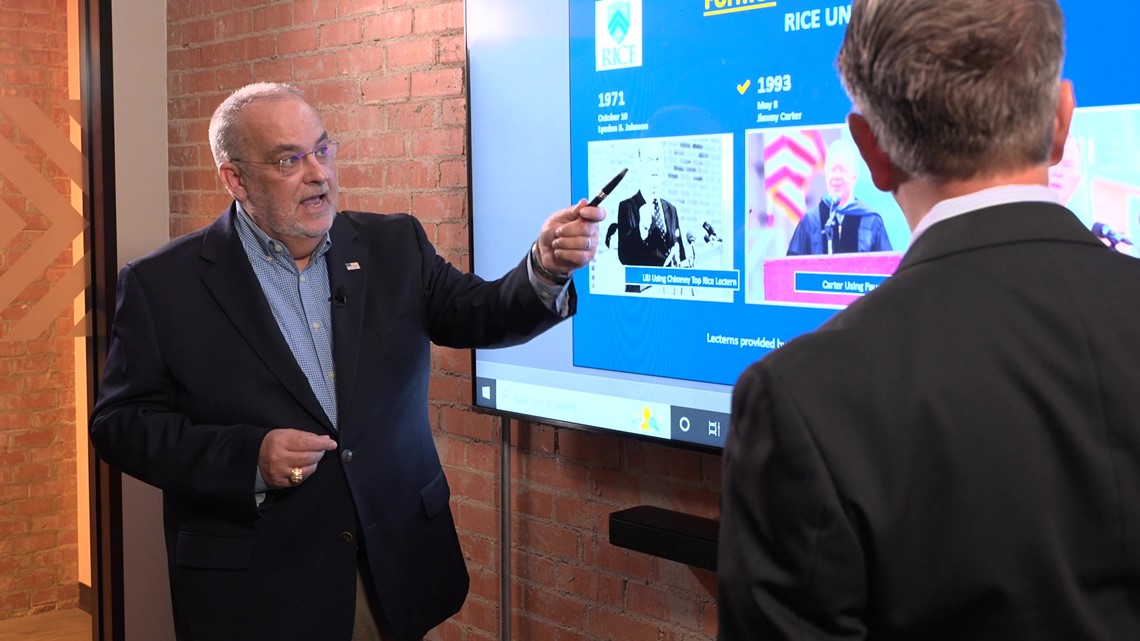 Greg Marshall, the director of University Relations at Rice, said he discovered the lectern in 1992, soon after going to work for his alma mater.
"It was the only lectern of its kind on campus, and older faculty and staff who worked at Rice in 1962 widely and routinely identified this as the lectern from which JFK delivered his speech. I've never had any reason to doubt them," Marshall wrote in an email to WFAA.
Marshall suggested that he thinks the university loaned its lectern to the White House for the president's speech.
"I can't prove it, but I'd be willing to bet that this lectern was not purchased specifically for the JFK speech. Rather, it most likely was just the best lectern Rice had at the time we learned that the president would be coming to speak at the university's semi-centennial, and it was moved to the stadium for that purpose," Marshall wrote in an email to WFAA.
'It's important to know the truth'
:
But as far back as 1940, the White House was providing its own lecterns for official presidential speeches, setting them up along with flags, microphones and more. The White House Communications is the agency responsible for such elements of presidential visits.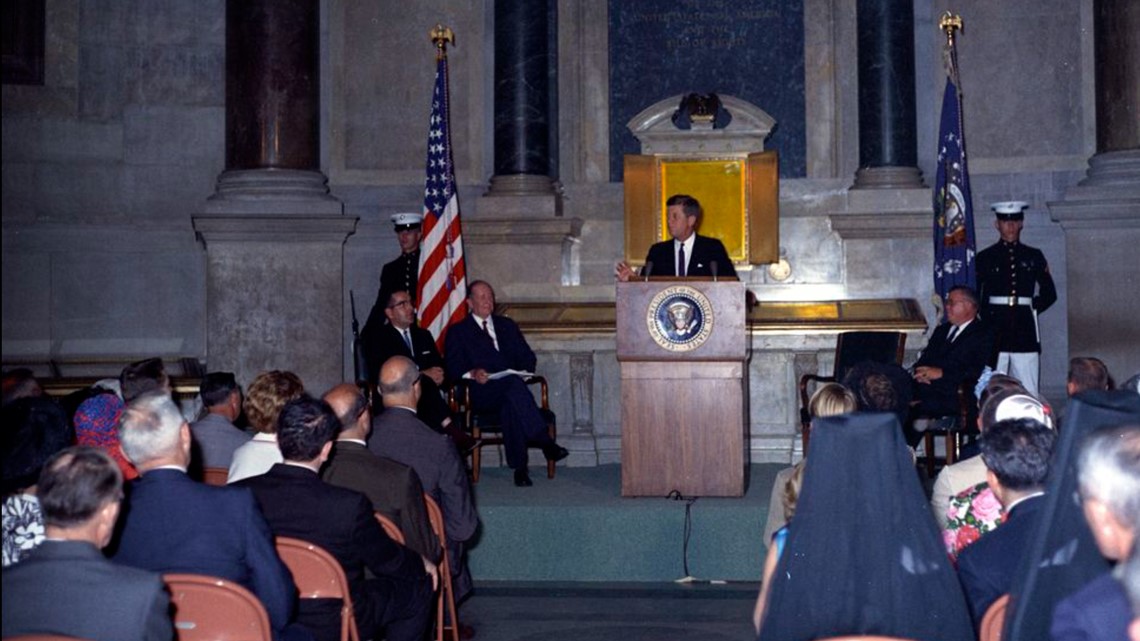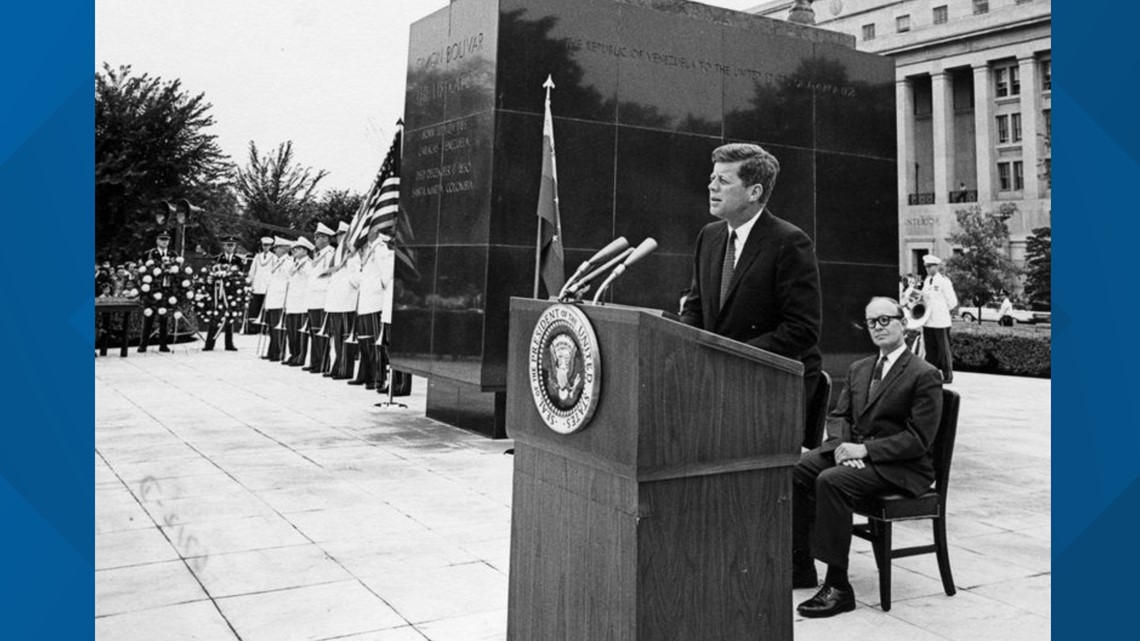 Even today, at the White House Communications Agency headquarters in Washington, D.C., large streaming banners chronicle the organization's history decade-by-decade. The one representing the 1960s shows a large image of President Kennedy speaking at Rice on Sept. 12, 1962.
So where would the university have gotten something so similar?
After Rookstool's investigation raised new questions, Marshall said he had the one on museum display inspected again.
"If Mr. Rookstool's assertions are accurate, then it appears unlikely that the lectern we donated to Space Center Houston is the one that President Kennedy used at Rice, as we were originally told," Marshall said. "That's obviously disappointing, but it's important to know the truth."
No one knows what happened to the actual lectern President Kennedy used that day at Rice University. Perhaps it was decommissioned and unknowingly sold as government surplus.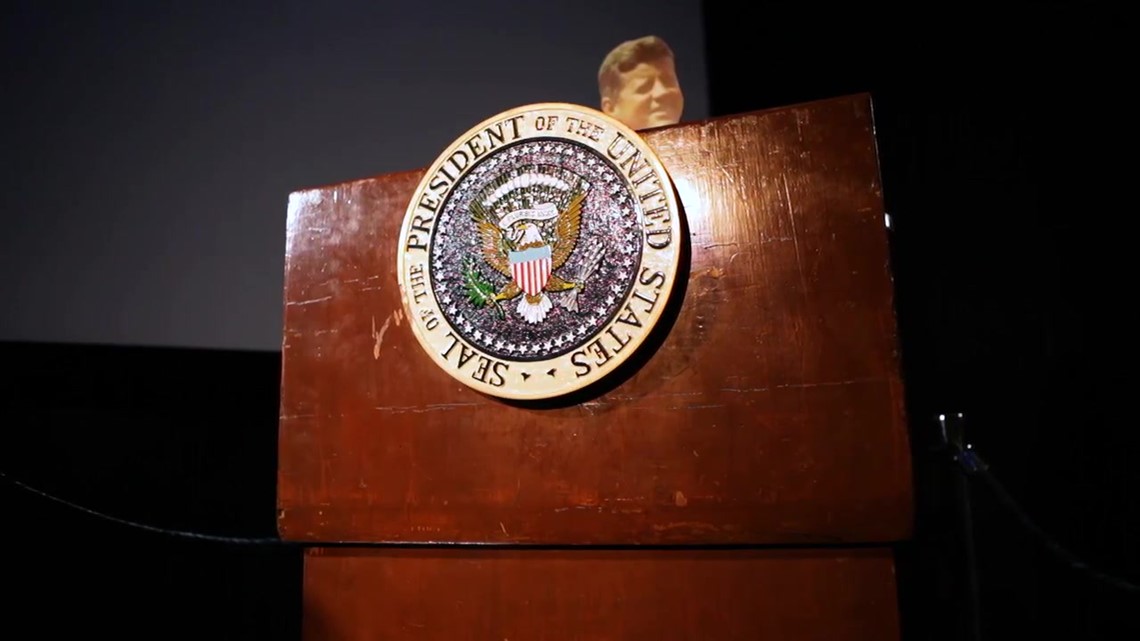 But there is no evidence that the one on display for decades in Houston is anything more than an insignificant piece of old furniture.
What happens to the lectern exhibit now remains unclear.